Wincanton's focused community website, providing news and information including a full calendar
News » Events » Purky Productions
The First Purky Party - Showcasing Local Talent and Businesses
Tuesday 27 March 2012, 17:24
By Harry John Pursey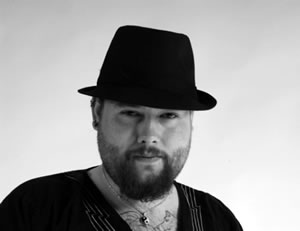 Wondering what a Purky Party is?
It is an exciting new venture, an opportunity for local craftspeople and entertainers to come together. I think that the future of British enterprise lies in creative, small independent start-ups. My ambition is to support and nourish them in Wincanton by creating a regular event to showcase this goldmine of talent. So who is going to be at the Purky Party?
Well me first! Purky Products is all about Handcrafted Joy, the idea that the jewellery items I create bring a moment of joy to their recipient, whether it be a gift for themselves or others. This philosophy infuses my work. I strive for brightness and vibrancy alongside sophisticated design. Each piece is handcrafted from my small studio in Wincanton.

Muriel Lavender
(photograph courtesy of Richard Matthews Photogaphy)

Dan Apsey
Muriel Lavender is an international darling of the Edinburgh Fringe. A Poetrix who delights with her risqué rhymes and unique style. She will be regaling us with poetry throughout the day.
Dan Apsey, is a talented young performer who lives in Wincanton. Swing classics will fill the air throughout the day as he works his old school crooning charm.
Where is the Purky Party?
The Cat Café is our venue. Bruno and Elaine have transformed Number 2 South Street into a vibrant, uplifting space to enjoy great drinks and food. The perfect space for a Purky Party.
Art, crafts, good food and brilliant entertainment.
Come on down and chill out with us for the day. Free entry, the doors open at 11.00am. Bring some friends and soak up the entertainment.
If you want to be involved with the next Purky Party either as a stall holder or entertainer then please contact or keep an eye for me on Sunday the 1st.