Wincanton's focused community website, providing news and information including a full calendar
Headlines » Events
Templecombe Medieval Pageant taketh place this weekend
Wednesday 30 May 2018, 17:10
By John Smith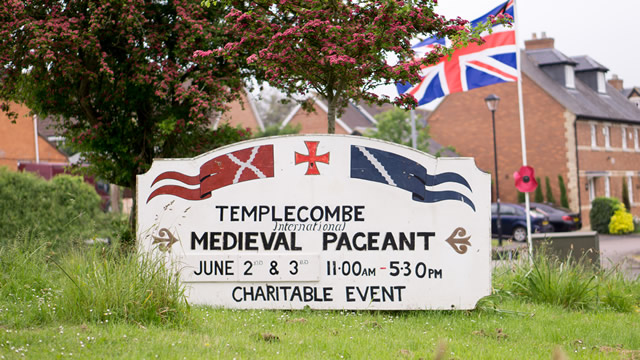 The 2018 Templecombe Medieval Pageant takes place this coming weekend, over the 2nd and 3rd of June, 11am - 5:30pm. The pageant has been an annual fixture in the village calendar for many years.
The pageant is based on some serious history. In the movie Indiana Jones and the Last Crusade, Harrison Ford is on the trail of the Holy Grail; the goblet said to have been used by Christ at the Last Supper. In the film, the Holy Grail is protected by a Knight of the Templars.
In the year 888, King Alfred built an Abbey in Shaftesbury with his daughter Ethelgiva as its first abbess. St. Mary's in Combe (now Templecombe) soon followed as a daughter church.
Later, in 1185, the landlord of the time, Serlo Fitz-Odo, gave the land on the south side of the stream to the Order of the Knights Templar. These knights were both monks and soldiers, who were dedicated to the protection of pilgrims, ancient holy relics, and holy places of Christianity, as well as to the articles of the faith.
You can find a more comprehensive historical account of Abbas and Templecombe on the Templecombe village website.
Those attending the pageant will gain a fair insight into life during those ancient times. Experience a medieval battle re-enactment, jousting, a medieval market, arts and craft stalls, archery, and falconry. Take advantage of numerous stalls providing delicious home-cooked food, and wash it all down with beverages from the bar. On Sunday there will also be a belly dancing performance.
Tickets can be bought at the gate.
Family (2 adults + 2 children) - £26.00
Adults - £10
Children and OAP's - £7
The pageant is a charitable event, and funds are being raised in aid of St. Margaret's Hospice, Wessex Ambulance and Papworth Hospital.
To get to the venue you can use the postcode BA8 0JX. Travelling south on the A357 from the A303, go through the traffic lights under the railway bridge and continue for approximately 200 yards, at which point the main road bends to the right. On that bend, turn left by the mature yew tree, and follow signs to the site.