Wincanton's focused community website, providing news and information including a full calendar
News » Events » Discworld
Olympics? The Gods are coming to Wincanton!
Friday 20 April 2012, 10:53
By Periwinkle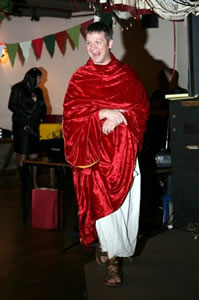 "In a tenuous tribute to this year's forthcoming round world events, this year's Spring Fling shall curtsey to the Queen's Jubilee and, er, squat thrust to the Olympics with a Mr Shine Him Diamond/Gods theme. May the the Cori Celesti Games begin!"

...from the Discworld Emporiums pages - B Pearson
The annual Spring Fling for fans of Sir Terry Pratchett's Discworld is happening the weekend of 4th - 6th May -with the theme being Discworld Gods and Goddesses and Mr Shine - Him Diamond - he's a Troll for the uninitiated!
Pictured here is Andy Murray, by day an aeronautics engineer in the RAF and at Discworld events "Bilious", the Oh god of Hangovers. Other Discworld gods and goddesses are Anoia - the goddess of Things That Get Stuck in Kitchen Drawers, Offler -the Crocodile-Headed god, Om who sometimes appears as a tortoise, and Hat the vulture-headed god of Unexpected Guests...so lots of great costumes for locals to look out for then!
---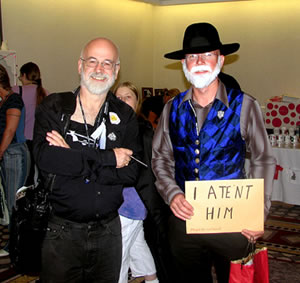 Sir Terry is currently in Jakarta, Indonesia, playing with orang-utans for a forthcoming BBC programme but will be back in time for the Spring Fling and, health permitting, will be in attendance as usual - so come along and say hello!
The Spring Fling, as it is informally known, will be happening on the weekend of 5th and 6th of May and is free to attend - it's a meeting of like-minded folk to celebrate Terry's works and raise money for a range of charitable causes such as the Secret World Animal sanctuary at Highbridge, Somerset and of course Alzheimers.
All are welcome and it's not obligatory to dress in costume - just come along to the local hostelries around town and enjoy the fun.
More details as and when programme is announced!