Wincanton's focused community website, providing news and information including a full calendar
News » Events
International Women's Day celebrations at the SEED Hub
Tuesday 8 March 2022, 12:14
By Lynne Franks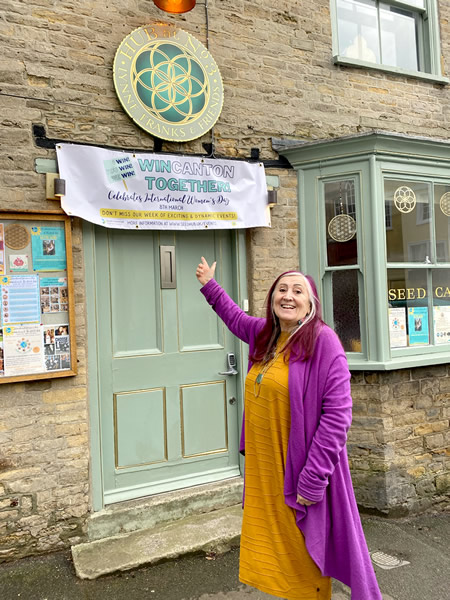 "A sustainable and inclusive future for the world will be led by the schoolgirls of today", claims social entrepreneur, women's empowerment activist and author Lynne Franks, OBE.
As part of her Somerset-based activities around this year's International Women's Day, Franks has been mentoring a group of 14-year-olds from her local school and has been inspired by their commitment to creating a better world of peace, harmony and safety for all.
"Following the examples of Greta Thunberg and Malala Yousafzai, who became a world leader after surviving a Taliban bullet at thirteen, I believe it is young women of today who are committed to saving the planet and creating a better future for humanity."

- Lynne Franks
UN research in 2015 showed that when more than half of the world's ten-year-old girls are in education, the whole balance towards a sustainable future for all would be obtainable.
Despite so many drawbacks for young people since the pandemic started, Franks, who herself has two teenage granddaughters, believes that cross-generational mentoring, group support and creative skills learning can put us back on track.
Founder of SEED, a globally recognised women's empowerment platform which has changed the lives of thousands of women around the world, Lynne Franks is now living in Wincanton in South Somerset where she runs her SEED Community Hub, café and eco-store as well as extensive women's online leadership and entrepreneurial programmes.
To celebrate International Women's Day, Lynne and her SEED team are co-ordinating a whole range of events on Wincanton's High Street, where the majority of the businesses are run and owned by women. Her SEED Hub is holding a whole week of events, which will be acknowledging the economic, cultural, wellbeing and societal achievements of women from the region.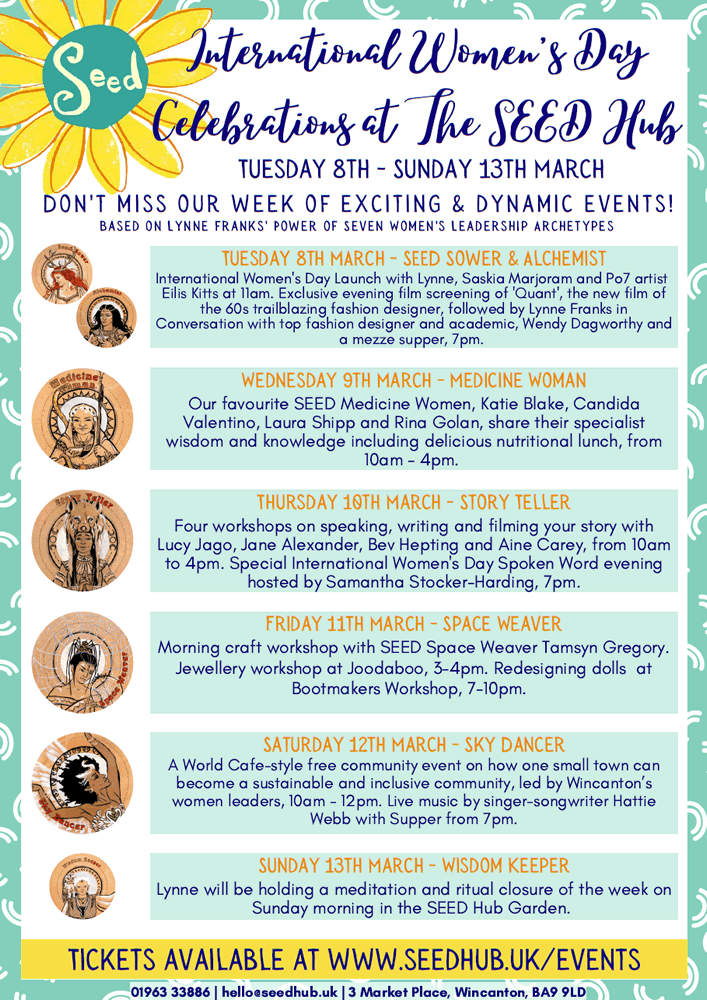 The celebrations include a showing of the newly finished documentary "Quant", telling the story of top British designer Mary Quant and made by first-time director Sadie Frost, who is the subject of Lynne's special I.W.D. edition of her Frankly Speaking podcast.
The film screening at Lynne's SEED Hub will be followed by an interview with fashion designer Wendy Dagworthy, formerly head of both St Martin's and the Royal College of Art fashion schools, responsible for teaching such fashion luminaries as Stella McCartney and Alexander McQueen and now based in the South West.
Singer/songwriter Hattie Webb, who together with her sister Charlie were the backing singers for Leonard Cohen in the last five years of his career as well as having worked closely with Tom Petty and the Heartbreakers, is performing solo on Saturday night for a return to the sell-out concert she did at the SEED Hub three years ago.
The six days of activities will be themed according to the feminine archetypes in Lynne's Power of Seven leadership programme, such as a wellbeing day with natural health experts based on Medicine Woman; different ways to tell your stories by top local authors and filmmakers for Storyteller Day and a day of creative craft-making throughout the Town on Friday's Spaceweaver Day.
"I am particularly excited about our Saturday morning World Café meeting led by many of Wincanton's visionary women leaders, including our Mayor, Sue Shelbourne-Barrow, when we are going to discuss how one small town can create a sustainable and inclusive community.

"When women get together, magic happens. I believe that in this post-pandemic period, with when so much damage has happened to young people, mental health and domestic violence, International Women's Day give women and men the opportunity to get back out in their community to share progressive ideas on how we can work together to create a new positive future."

- Lynne Franks
You can find a full list of IWD activities at the SEED Hub on seedhub.uk.
---
Lynne Franks, OBE, ran one of the UK's highest profile PR Agencies, where she instigated London Fashion Week; The British Fashion Awards and the world's leading AID's awareness campaigns, Fashion Cares. She promoted Green Consumer Week as well as many other environmental and human rights campaigns.
She put on the UK's first major women's conference, What Women Want at the South Bank in '95; launched women's business clubs B.Hive and was chair of Viva women's radio station.
She has promoted many of the UK's leading designers, major brands and retail outlets and is recognised as a champion for women's equality through her workshops, books and podcasts. She is also said to be "the inspiration for Absolutely Fabulous." She received her OBE in 2018 from the Prince of Wales for her contribution to fashion, business and the empowerment of women.
Grandmother of seven, Franks has lived in Wincanton for the past four years where she runs the SEED Hub workshop, café and retreat space and The SEED Store, plus women's online educational and empowerment programmes based on her internationally published seminal women's business book 'The SEED Handbook' first published in 2000.