Wincanton's focused community website, providing news and information including a full calendar
News » Events » Purky Productions
Get Ready for an Arcane Encounter!
Monday 22 October 2012, 12:21
By Harry John Pursey (Captain Purky)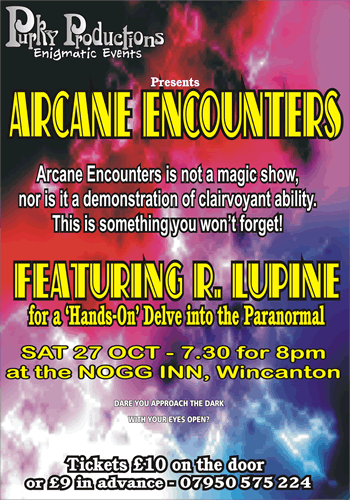 You may be thinking to yourself, 'What is an Arcane Encounter?' Well my friends, Arcane Encounters is not a magic show, nor is it a demonstration of clairvoyant ability. This is something else.
It is an up close and personal voyage into the unknown.
The techniques of a séance with the intrigue and excitement of a ghost hunt wrapped up in an evening of paranormal, interactive entertainment.
Audience members will have the opportunity to hold and experience objects with a haunted past, make contact with the spirits that are around them and even feel or see a ghost themselves!
There will be demonstrations of the various techniques used in a séance, including automatic writing, table turning and even the Ouija board itself!
Dare you approach the dark with your eyes open?
Come and join us at The Nog Inn Function room on Saturday 27th October
Tickets are £9.00 in advance from Purky Productions () or £10.00 on the door.
If you spook easily, bring a group of your friends to hold your hand!
I am very much looking forward to seeing you there.
Captain Purky
(Please note this event is for adults only and will take place in candlelit surroundings.)