Wincanton's focused community website, providing news and information including a full calendar
Headlines » Events
Fun in the Sun 2018 approaches!
Monday 6 August 2018, 19:20
By John Smith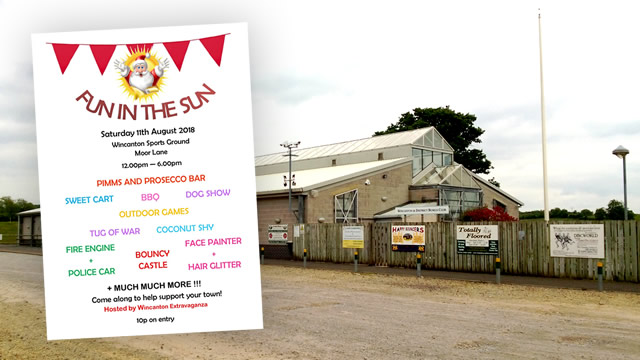 This year, to balance the long-standing Wincanton Christmas Extravaganza, the committee have now planned a brand new summer event: 'Fun in the Sun', to take place on Saturday 11th August at the Wincanton Sports Ground on Moor Lane. All the fun takes place between 12 noon and 6pm.
There will be a Prosecco and Pimm's bar (for the adults), ice cream for the kids - and the bigger kids - and the BBQ will be fired up for all. There'll be a cooling down area for dogs, courtesy of DogLost who have done a great job recently, helping to find some missing local pooches.
There will be lots of fun and games for everyone, including traditional fete games like hoopla, hook-a-duck, lucky dip, Twister, Snakes and Ladders and a coconut shy. Falconry displays, penalty shoot-outs, a fire engine and a police car will all add to the entertainment.
One of the event highlights will be a dog show, to include all kinds of dogs. This may not be quite in the same league as Crufts, but it promises to be great fun. Just check out the categories below.
Entry fee for the dog show is £1 per dog per class entered, payable on the day. Look at the classes and decide which classes your dog(s) are best suited to. There will be places for 1st - 4th and a small prize for the winner of each class.
Best puppy (under 12 months)
Best rescue
Best veteran (over 7 years of age)
Prettiest bitch
Waggiest tail
Handsomest dog
Best Irish brace (2 dogs that are the least identical)
Best pedigree dog (any breed)
Best pedigree bitch (any breed)
Best in show
If you're not a dog person, how about grabbing 7 of your friends and colleagues, or even 7 random people, and enter a team for the tug of war? You can enter a men's team, a women's team, or a children's team. Enter your team on the day, or contact us to register your team in advance. Why not give your team a snazzy [family friendly] name? You'll need to provide a contact person and telephone number.
Entry is £10 per team. The winning team will be presented with a shield that has been in the Town Hall from around 1986, when it was last won by a team from the Sparkford Inn. If you know anyone at the Sparkford Inn, please let them know their title is in need of defence! If anyone has, or knows of any pictures of any tug of war events that competed for this shield, please send a copy to the organisers.
For more information and to register your dog or tug-of-war team, contact Jane Griffin on 07970687197, or visit the Wincanton Christmas Extravaganza on Facebook.