Wincanton's focused community website, providing news and information including a full calendar
News » Events » Discworld
Discworld Spring Fling 2012
Wednesday 2 May 2012, 14:54
By Reb Voyce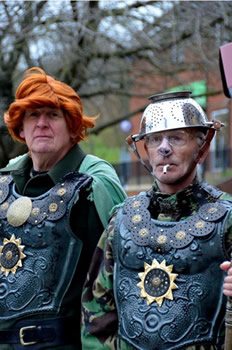 Photo: Arthur Pickup
Our annual spring-time get together is only a few days away!
From the 4th to 7th May Discworld fans shall gather in our home town of Wincanton, Somerset for some like-minded company and charitable nonsense. In a tribute to this year's Roundworld events, we'll curtsey to the Queen's Jubilee and squat-thrust to the Olympics with a Right Royal Cori Celesti theme, so don your togas and polish your sceptres and let the Cori Celesti Games begin!
Proceedings begin on Friday evening, when the talented Mr Harry Pursey will perform the tale of The Goblin Tailor in the Nog Inn at 7.30pm. Tickets cost £5.00 on the door, and advance bookings for £4.50 can be made by calling 07950 575224.
On Saturday, we've games, talks, craft stalls, a parade of Gods and Godesses, and a Royal Variety performance, "A little Klatch Music", in the afternoon. In the evening, Lord Hong will be hosting Discworld karaoke late into the night at the Bear Inn, and the talented singer/songwriter Sarah Yeo will be performing at the Dolphin Hotel.
The traditional Grand Charity Auction will commence at 11.00am on Sunday in aid of Alzheimer's research. We are still accepting donations, so if you can spare an item for a good cause please bring it to the Emporium desk along with a brief description for ease of cataloguing!
Also on Sunday, will be the Cori Celesti Games at the Dolphin, Big Bear Quiz in the evening, and lots of cake!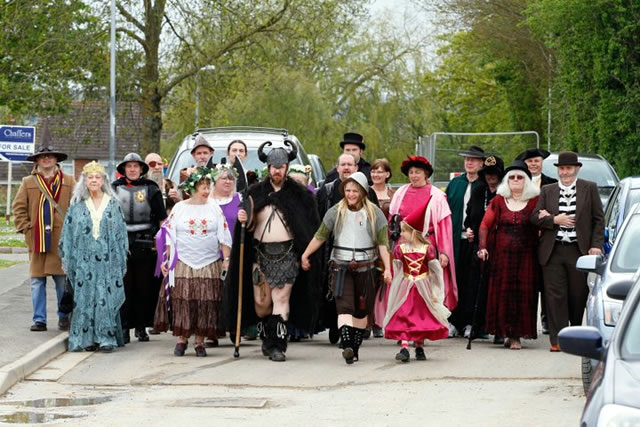 On Monday, the Ankh-Morpork Trespasser's Society will be attempting the risky descent of the High Street with tea stops to check equipment at regular intervals. All are welcome.
Traders! Our Makers' Market on Saturday and Sunday is an opportunity to showcase and sell your hand-crafted wares in the company of friends. This year we have use of the Nog Inn function room where goods can be stored securely overnight. A booking fee of £10.00 per day and £15.00 for the weekend is required and includes the use of a 6ft table. Please email [] for more details and booking information.
Food and drink - Join us in The Bear and Dolphin inns for a communal Spring Feast at 7.00pm on Saturday 5th for £12.95, booking is essential!
The Dolphin will be serving their famous communal carvery and a choice of puds - call 01963 32215!
To see the Bear's meal options, along with a full weekend menu of special lunches and suppers please visit our page on The Bear Inn's website and call 01963 32581 to book direct.
If nothing tickles your fancy, don't despair - there are plenty of wonderful eating houses throughout the town to cater for all tastes.
For ideas on where to rest your head please have a look at our list of Places to Stay.
We wish everyone a safe and pleasant journey, and look forward to seeing you on Friday!