Wincanton's focused community website, providing news and information including a full calendar
Headlines » Food & Drink » The Nog Inn
Whisky Club – With a Difference
Monday 10 February 2014, 18:15
By John Smith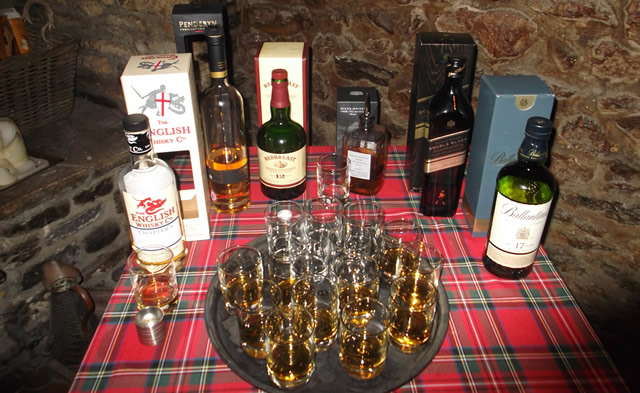 The Nog Inn Whisky Club has set out to sample many of Scotland's excellent whiskies. But the January meeting raised new challenges.
For a start, not all the whiskys were malts. Blasphemy to purists. Set before them was a selection of malts and blends, and to cap it only two whiskies originated in Scotland!
The English Whisky Co Chapter 9 (46% ABV)
it's definitely not distilled in the Highlands of Scotland. In fact it's distilled by The St. Georges Distillery in Norfolk, using water from the Breckland aquifer beneath the distillery. Although classed as a single malt whisky this whisky is only three years old. It's generally accepted that a whisky can only bear the "Malt" label if it has reached at least 10 years of age. But, not being Scottish, maybe the rule doesn't apply.
Penderyn Madera Cask (46% ABV)
The next offering took the boat out further. Penderyn is a Welsh whisky. Nobody had ever heard of a Welsh whisky before. Again it came as a pleasant surprise, with a well-rounded flavour, and a rich golden colour. Penderyn Whisky comes from a very small distillery in the foothills of the Brecon Beacons and production is limited to one cask (circa 200 litres) each day. It's already establishing a solid reputation.
Red Breast (40% ABV)
The third whisky was from a more traditional source, but yet again, not Scotland. Red Breast is a solid Irish whiskey distilled in the deep south (Cork). This one is the extreme opposite to Penderyn in that the Distiller (Middleton), founded in 1825, is home to "The Big Still", the world's largest still (no longer used) that produced circa 33,638 gallons. Irish whisky has a very distinct foundational flavour, probably because of the extra third distillation process. It presents with a good bouquet and rich golden colour with a nice clean taste.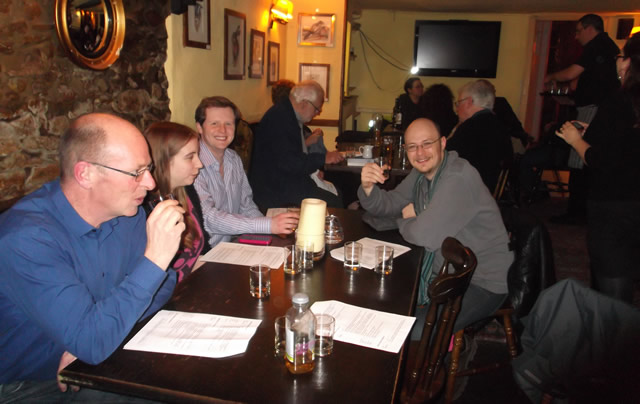 Nikka (51.4% ABV)
With this offering the group didn't just go international. They went to the other side of the world. The name tells all. This offering was from Japan, a mystical land with amazing history. The first thing to note was the 51.4 ABV. This means that in old money this whisky is just over 100 proof. So this was a whisky that they needed to sip gently. It had to be respected.
This particular whisky wasn't single malt. It was actually a blend of mature malts, and grain whisky that are recasked in a process known as "marriage" to bring about a rich and distinctly different style of whisky.
This whisky was clearly a black horse on the table, and took all by surprise. This was an exceptional whisky, and possibly a warning to traditional Scottish distillers that they don't have sole rights to the golden nectar.
Johnny Walker Double Black (40% ABV)
Phew! At long last, we have an offering from north of the border. Johnny Walker is an internationally renowned distiller and their "Black label" brand is a world market leader in the realms of blended whisky. Double Black is even better. However I wonder if being sandwiched between more distinctive malts meant that the intricacies of this whisky were lost on the tasters?
Ballantine's 17 Year Old (43% ABV)
Another Scottish offering that breaks the mould. It's a 17 year old whisky, but it's a blend, and not malt. It's not often that you come across blended whisky boasting a mature age. This whisky is created by blending malt and grain whisky from all over the world. This one came with sweetness, but with a salty and peaty background flavour. It could almost have been pretending to be a west coast island whisky. This one comes with a rich and full flavour.
Overall, despite the individual assessments of each whisky it was agreed that all were very good and well gluggable. However, there was a definite feeling that Nikka stood out above the rest. Everyone made their way home (very carefully), already wondering what would be on offer at the next Whisky Club meeting. Watch this space.