Wincanton's focused community website, providing news and information including a full calendar
News » Food & Drink
The White Horse Has Closed – Owner Declared Bankrupt
Wednesday 20 May 2015, 16:14
By John Smith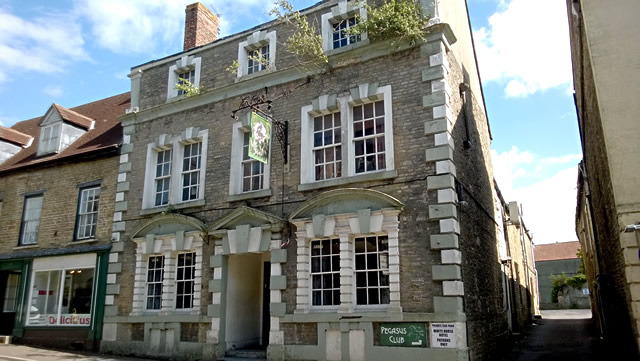 The White Horse Hotel, a once prominent business in Wincanton High Street, has closed its doors without warning. It has traded as a pub, hotel, and more recently, was the venue for the Pegasus Nightclub.
Current owner Paul Symes was declared bankrupt in court in Yeovil on the 9th April, and the case transferred to the insolvency service in Exeter. They will now conduct a financial autopsy and work with appropriate parties to quantify the debt, and then decide what can be done to pay it off. The petition was filed on 13th February by British Gas, with the final bankruptcy judgement given on 9th April.
The London Gazette is currently advertising a general meeting of creditors to be held on Monday 15th June at 2.00pm in their Exeter Offices.
The White Horse is one of many historic buildings in Wincanton, dating from around 1655 when the owner was shown as John Vining. Ownership later passed to a lady with the quaint title of "Widow Dickory" in 1678. A brief history of The White Horse can be found at pubshistory.com.
Sadly, over many years this once attractive building gradually fell into disrepair. The poor state of the building led to it being added to the Town and District Council's "Town Eyesores" list. They were in contact with the owner, but with the bankruptcy judgement any refurbishment will have to be completed by a new owner.
What does the future hold for this High Street building? Will someone purchase it and restore it to its former glory? Will the new owner re-open it as a hotel/pub? Will it fall into that sad category of attractive town centre buildings that get converted to apartments?
If anyone is interested in buying a prime town centre property for restoration please contact:
The Official Receiver
The Insolvency Service,
Senate Court,
Southernhay Gardens,
Exeter,
Devon EX1 1UG
Phone: 01392 889650