Wincanton's focused community website, providing news and information including a full calendar
Headlines » Food & Drink » The Nog Inn
The Nog Inn Wins Heart of Wessex Pub of the Year Award!
Tuesday 31 May 2011, 18:57
By Mandy Cochrane
The Nog Inn in has certainly seen some changes since Will and Amy Cutts took up residence almost four years ago, not least of which has been a complete face-lift both inside and out. Their latest success sees The Nog being awarded the CAMRA Heart of Wessex Pub of the Year, beating off around one hundred other pubs in the area. It's an achievement they were both surprised and honoured to receive.


A small sample of the ales on offer at The Nog Inn
"After only a year of being in the Good Beer Guide, this is very exciting," says Amy. "Ale sales are a real growth area and the choice to the public is getting better all the time, thanks to the arrival of more micro-breweries."
The Nog Inn regularly has three real ales on offer and is soon to introduce a fourth, further evidence of their growing popularity. Sharps Own and Otter Bitter are two regulars but local guest beers are also a standard feature at The Nog.
Cider is another recent growth area for the pub. An unseasonably warm Spring may have helped to boost sales, but this is Somerset after all - cider and Somerset go together like fish and chips! The Nog keeps four ciders at any one time - usually two keg and two rustic guest ciders.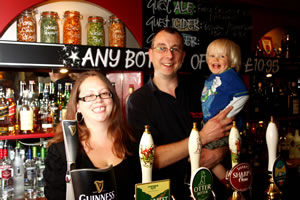 The Nog's excellent food menu is also a winner with customers. "We're proud to be a pub that serves good food, not a restaurant that serves beer," says Amy. "Our menu is all home-cooked and ingredients are sourced locally wherever we can". Even down to the eggs they buy from a regular customer who keeps chickens! Will often lends a hand in the kitchen, helping the regular cook during busy periods.
The couple are happy with their lifestyle running a freehold pub in rural Somerset. Although Will had already been managing pubs for around 14 years, Amy's background as a legal PA in London gave her slightly less preparation! But they and their children, Benjamin (6) and Edward (2) are extremely happy with their choice. "It's hard work," says Amy, "but we manage to work everything around the children. Wincanton is ideal for us both as a family and as a place to be in business."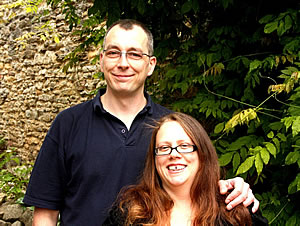 Having looked at over 150 pubs before deciding on The Nog Inn, the family were certainly determined not to settle for second best, a decision that seems to have been borne out by the pub's success since their arrival.
The presentation of the CAMRA Heart of Wessex Pub of the Year Award takes place at The Nog Inn on Wednesday 8th June at 7.30pm. Will and Amy extend a very warm welcome to anyone who'd like to join them in their celebrations.
Find out more about The Nog Inn at www.thenoginn.co.uk or call Will and Amy on 01963 32998.