Wincanton's focused community website, providing news and information including a full calendar
Headlines » Food & Drink » Truffles (Bruton)
Richard & Barbara Sorapure at Truffles Restaurant
Wednesday 31 July 2013, 12:57
By Richard Sorapure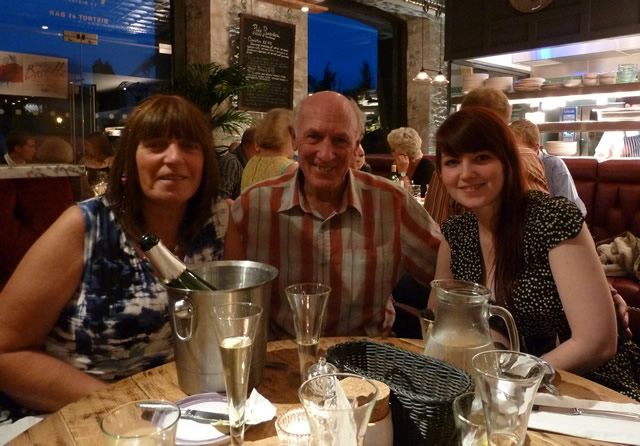 Richard & Barbara Sorapure and their daughter Natasha
Having spent much of our lives in distant lands (and an episode involving pirates!), my wife and I purchased the empty shell of Truffles in Bruton last year and have been busy translating it into a dynamic French Bistro Restaurant.
I have an unusual background for a restaurant owner. As a marine geologist and geophysicist I am more than likely to be away in some far flung corner of the globe as you read this. Whilst I am away, Barbara and some of our five children will be holding the fort!
I did in fact start out doing Hotel & Catering. I qualified with a National Diploma from Portsmouth and promptly got a job as a management trainee at the prestigious Park Lane Hotel in London.
For the princely sum of £11 a week I spent the next year stuck behind the reception desk. I knew my stay would be short lived after I mistook the hotel manager for the lift attendant!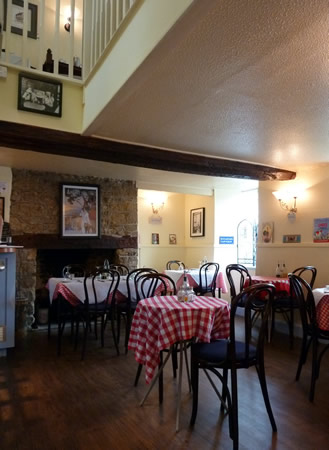 As a French speaker my task was to deal with French guests and dissuade them from bringing cheeses with them, as many liked to smuggle in Pont l'évoque or saucisson rather than risk English food back in the late 1960s, before avocado pears had been discovered.
I also worked in some quite good restaurants and hotels on the south coast before moving to London and working in Marketing for JWT on a series of diverse sales promotions.
Skipping a few years I then won a place at Manchester University to study Geology. After qualifying I moved to Singapore and practised as a marine geologist and geophysicist for twelve years. During this time I married Barbara and we had four children born in Singapore, and then one more born in Yeovil on our return to the UK in 1994.
On our return to the UK the children had to adjust to the shock of weird weather and peculiar, non-Chinese schools. I continued to work abroad, returning frequently to Malaysia and Indonesia for short projects and then rushing back to mow the lawn at home.
In 1998 I was offshore Nigeria when my survey boat was attacked by 20 pirates! It's one of the hazards of the area but not pleasant! I have returned twice more and would say things are worse now than back then. Having survived this experience I have since worked offshore Iraq and Iran without incident, but I also get to travel and work in some stunning locations worldwide and I find the majority of people are easy to get on with and don't want to kidnap you for ransom!
In 1998 the family moved to Bayford. All five of our children were educated at King's School in Bruton and Barbara worked in the school uniform shop.
Next she worked at Wincanton Racecourse in the Owners and Trainers Bar and all the children assisted on race days and for catering functions to earn a bit of pocket money.
Our surname (Sorapure) is a strange name - it's French Basque in origin. We purchased Truffles Restaurant in 2012. The previous owners had closed down in 2009 so it had been lying idle and unloved for three years. Although Truffles had been a well known iconic restaurant serving excellent food, that was all in the past and we had to start with a clean slate.
It was also perceived as an expensive restaurant for special occasions. We've established a relaxed Bistro-style atmosphere with standard French favourites but using locally sourced ingredients where possible.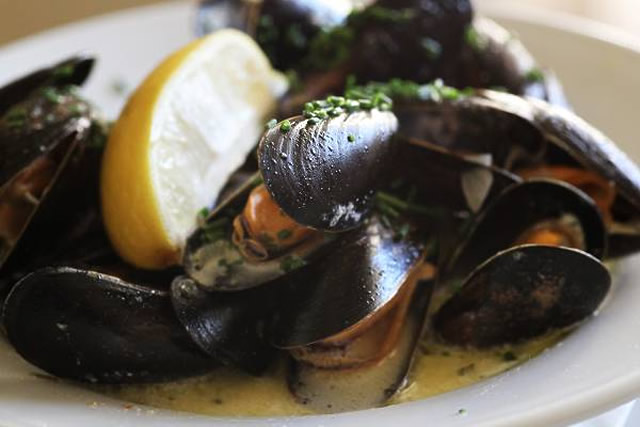 The day starts with delicious morning coffee (beans supplied from Karikta in Wincanton) and breakfast (not your regular English breakfast but one with a Continental flair!) followed at 12.00pm by Prix Fixe lunch of two courses for £9.95 or three courses at £12.95, plus lighter snacks and quick bites and specials of the day.
Dinners concentrate on whatever is seasonal and may include local Bruton Dexter beef, lamb from Gant's Mill, wild rabbit, game and fish and seafood from Devon and Cornwall.
We're keen to change people's misconception of Truffles as being expensive or exclusive. In reality the prices for eating out are now lower than the prices prevailing in 2009! The present team includes an excellent Chef, Simon Jones (formerly of the White Hart Hotel in Martock) and we also employ an apprentice chef and several part-timers.
Opening a restaurant during a recession is a brave step but we have the will and determination to make this succeed!
[Editor: Following the success of their recent Bastille Day buffet, Truffles will be offering Sunday buffet lunches throughout the summer - read more here.]