Wincanton's focused community website, providing news and information including a full calendar
News » Churches/Religion » C of E Parish
Repairs Begin on Wall at St Peter and St Paul's Church
Saturday 23 August 2014, 18:59
By Paul Heyes, John Smith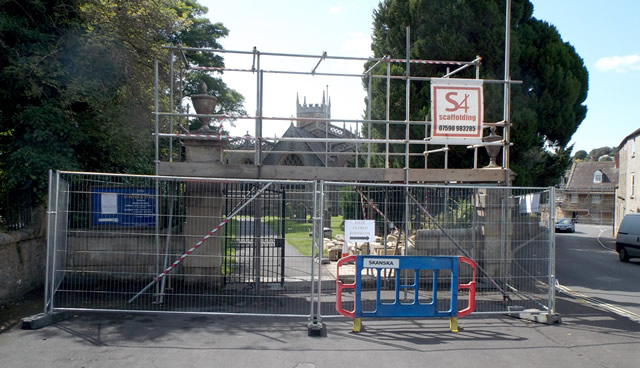 After much delay and frustration, work has now begun to repair the damage from one of Wincanton's more notorious recent incidents. It was back in November 2013 when the entrance wall to the parish church of St. Peter and St. Paul was partially demolished by a driver going the wrong way down Church Street, while under the influence of alcohol - an offence for which he was sentenced to 240 hours' unpaid work and banned from driving for two years.
Parish Rector, the Rev Nigel Feaver, has shared the frustration of many town residents in being unable to make good the damage more quickly; unfortunately, the issue was made complex because of the ongoing court case and the fact that the wall forms part of the Listed Building status of the church. The process could not begin until after sentence was passed in April, and negotiations were then completed between the church's own insurers and those of the convicted driver.
Having finally been able to invite applications for tender, the firm of Glynwoods & Plint were contracted for the repair work and commenced operations earlier this week. It is hoped that the repairs will be completed within a month or two.
Work on historical buildings like this is a highly complicated affair. Unlike many modern, non-conformist church buildings, a large number of Anglican churches have been around for centuries, earning the classification of "being of historical interest". In the case of St Peter & St Paul's, Wincanton, the whole building including boundary walls is classed as Grade II *(star). At this level there are severe restrictions on what can be done. There is little if anything that you can do to change the outward appearance in any way without the express permission of the listing authorities.
Being listed means that the gates have to be rebuilt/repaired to bring them back to their original condition, or as close as possible. Such work incurs great expense when dealing with very old stonemasonry and materials that must be replicated.
In this case the contractors, under supervision of architects and listing authorities, must source the stone that was used originally. Thankfully a lot of specialist stone is produced in this very area. In this case the original stone used was Doulting Stone, from a quarry near Shepton Mallet, and this is still available from the quarry today. It is the same stone used to build Wells Cathedral.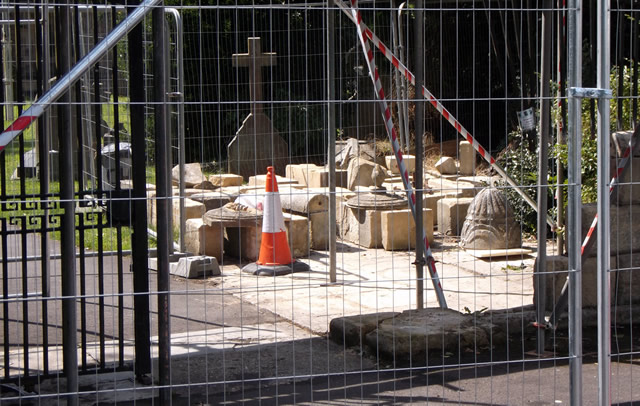 The contractor must then arrange for any masonry work to be completed on individual pieces of stone before they can be set in place. The original bonding material must also be used when constructing the wall, in this case limestone mortar.
The gates themselves, crafted by blacksmiths a long time ago, have to be repaired to remove any broken sections and to straighten any bits that have been bent out of shape.
This all adds up to a great many man-hours of work, and the final bill is likely to be in the many tens of thousands of pounds. If any specifics come to light they'll be added to this article.