Wincanton's focused community website, providing news and information including a full calendar
News » Churches/Religion » C of E Parish
Police Arrest Driver After Crashing Into Church Gates
Wednesday 4 December 2013, 14:23
By John Smith
On Saturday 30th November the Rector Rev. Nigel Fever was contacted by local Police to inform him of an unfortunate incident concerning the gates at the entrance to St Peter and St Paul's Parish Church.
At 3:48am that morning a driver under the influence of drink decided that Church Street was a valid route to take, but against the flow of traffic.
We understand that the local Police happened to be in the area of the Town Hall and witnessed the driver proceed down Church Street against the one-way system. They followed the car and witnessed it try to negotiate the stout gates of St. Peter and St. Paul's.
Judging by the damaged to the gates the car must have been travelling at a fair speed. Those gates and pillars are pretty stout. Avon and Somerset Police confirmed that a 22 year old man was taken into custody on suspicion of dangerous driving and driving under the influence of drink. He has since been bailed pending further investigations that could lead to charges.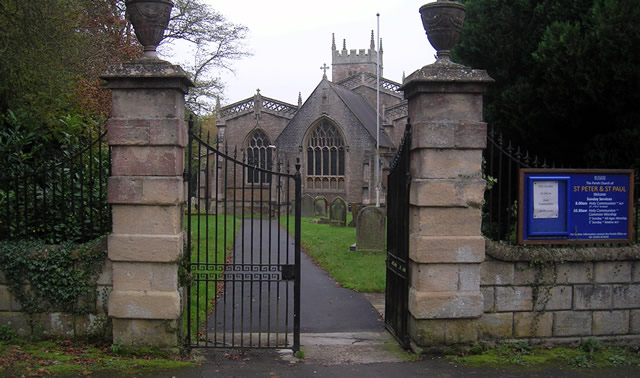 The Rev Fever explained that, unlike damage to a normal modern wall, this wall and gates are pretty old and will probably be subject to involvement of outside agencies like English Heritage.
As we all know work on ancient buildings is never an easy thing. Rev. Fever and his parishioners have only recently completed extensive work on the church roof with all the machinations that this entailed. It looks like they are about to start another round to try and bring the boundary wall and gates back to a serviceable state.
Repairs could be complicated by the fact that the Church is responsible for the wall and the gates, but the Town Council would have been responsible for damage to the actual graveyard or grave stones.