Wincanton's focused community website, providing news and information including a full calendar
News » Food & Drink » Redfearns
Redfearns Restaurant – Making Wincanton the Place to Eat
Tuesday 13 May 2014, 14:43
By John Smith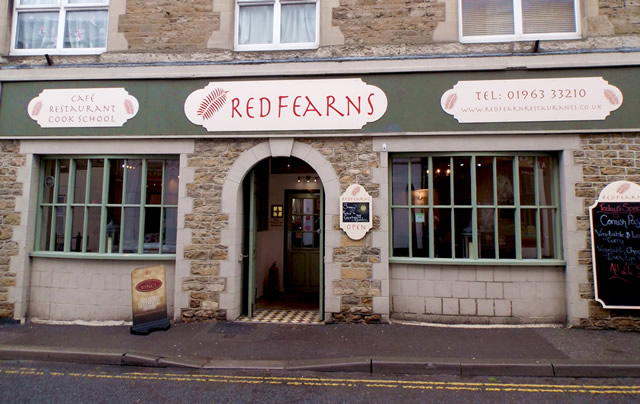 Geoff Redfearn, chef and owner of Redfearns, a Thai/Asian Fusion Restaurant in Wincanton, will officially open for business on Saturday 10th May. Geoff took over the former Cat Café, and re-moulded it around his own style and character.
Since then he has embarked on a programme to introduce the community to Redfearns, starting with a series of taster evenings, allowing guests to sample possible menu dishes. This was so successful that he opened Redfearns on Friday and Saturday evenings, providing pre-opening sample menu evenings, serving customers with samples of four starters and four main courses for a set price of £12.95 per head. Those sessions enabled him to gather valuable feedback that will help him to create the best menus.
Geoff was brought up in the North East, an area renowned for breeding tough characters. His zeal and drive to provide quality dining led to him winning a scholarship to attend Westminster College in London.
After College he worked in some of the best hotels/restaurants throughout the UK, gaining many important skills and much knowledge for his career as a chef. Since then he has worked with many renowned chefs including Michel Roux Jr., and Angela Malik.
Geoff has travelled widely in Asia and has become famous for his Thai cooking which will be the main focus of Redfearns in Wincanton. Judging by the popularity of the taster sessions this will be one very popular venue in town, further enhancing Wincanton's growing reputation as a must-go place for a great culinary experience.
Along the way he developed a passion for training and coaching, and Geoff will be using this passion and drive to provide a cooking school for all who want to benefit from his vast experience. So whether you want to book a table for dinner, or book a place on a cooking course, all you need to do is contact Geoff at or call him on 01963 33210.