Wincanton's focused community website, providing news and information including a full calendar
Headlines » Food & Drink » The Nog Inn
A Whisky Club in Wincanton - The Nog Inn Strikes Liquid Gold
Thursday 9 January 2014, 12:52
By John Smith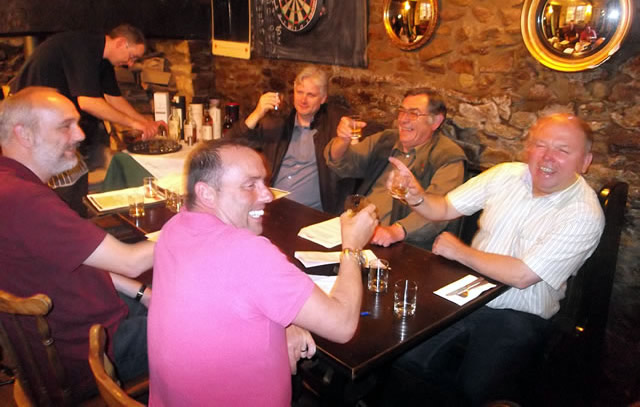 Continuing to bring great ideas to The Nog, Will and Amy have struck liquid gold in the form of their Whisky Club. Having a quarterly Whisky Club allows fans and maybe some undecided folks to try a sample of this golden nectar of the clans. On the evening that I attended we were treated to the delights of some pretty good Speyside Malts.
In a corner of the Nog was a table with ample glasses and five very interesting whiskies including:
A Macallan (probably 10 years old)
A 12 year old Linkwood.
A 14 year old Balvenie
A 21 year old Tomintoul
A cask strength Glenfarclas
In case you don't know, a whisky must be at least 10 years old to qualify as a malt, so in this instance we were facing some seriously aged whisky. Macallan is a well known name, but after that the names start to become a bit more obscure.
Will led us through the evening, guiding us from The Whisky Bible, sharing what flavours and aromas we should be looking for. First he served us all with a dram to be taken neat. No water and ideally no ice. That way you get accustomed to the natural product unadulterated by extras.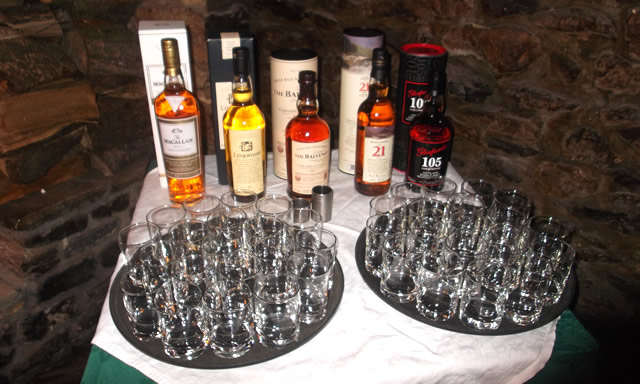 Next we were given a second dram, but this time we were encouraged to add literally a droplet of water to see if we could tell the difference. They say that even a mere droplet tones down the sometime hard bite on your throat as you swallow this golden nectar. I have to be honest and say that I think this is a waste of good whisky. However, for the evening I forced myself to abide by the rules.
Each brand of whisky was excellent, and each had its own individual character. Each was surprisingly distinct. However, if Will had presented us with unbranded bottles, and asked us to identify the individual brands, I suspect that we would have failed miserably, but in a very contented miserable way, if you get my drift.
The Balvenie stood out from the others because it had been aged in rum casks, and it definitely had that little taste of rum as a result. It was very nice indeed.
For me the star of the evening was the cask strength Glenfarclas 105. I think this took us all by surprise. Judging by the coughs, chokes etc., gentle sipping was the order of the day for this beauty. A call to the Glenfarclas distillery revealed that the name "Glenfarclas 105" comes from the fact that this whisky is 105 proof (in old money) but in modern times it is 60% whereas most whisky is bottled at around 43%. I was also surprised to find that it was only a 10 year old whisky.
In the end we had an excellent evening as can be seen by some very cheery faces. Sadly I missed the next club because ironically I was in Scotland and didn't touch a drop. I think Will may have to re-assess the two drams of each whisky policy or sample less bottles on an evening. I for one found the trek back up West Hill more arduous than usual.
The next Whisky Club at The Nog will be on Thursday 23rd January.
So if you are interested in getting to know a little more about this silky golden nectar contact Will and Amy and ask to be added to the list. It comes with a price, but as a certain cosmetic advert declares – "You're worth it".