Wincanton's focused community website, providing news and information including a full calendar
News » Charity » CAT Bus Ring and Ride
A coffee morning supporting the CAT Bus
Monday 25 November 2019, 18:14
By Joyce Page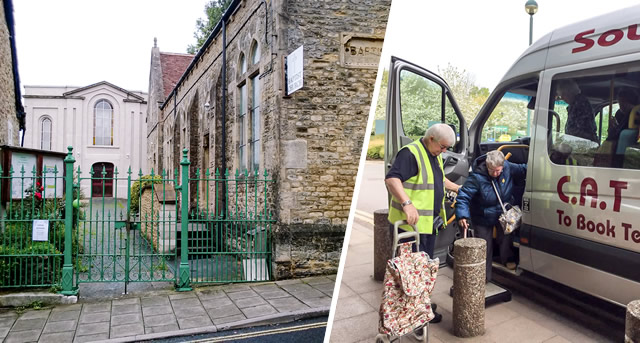 [UPDATE 03/12/2019:]
We would like to thank all who came and supported the CAT bus coffee morning on November 30th. We have raised £420 so far with some more possibly coming. The morning itself raised £378.13. A big thank you from all of us.
[ORIGINAL:] In response to this article on the Wincanton Window, we are organising a fundraising coffee morning in support of the CAT Bus, on November 30th from 10am – 12pm in the hall of the Baptist Church on Mill Street.
We know how important the CAT bus is to us; taking us shopping or to the surgery etc. If you have never used it before, the Balsam Centre has all the details, but here's a brief summary for a first-time user.
Anyone can use the service. The fares are subsidised for all users, and there's a further 50% discount for us bus pass holders. Phone 01963 33864 from 9:30am to 12:30pm, Monday to Friday. The phone will be answered by the friendly Lin or Paula.
If, for example, you are going to Morrison's, they will give you a time when the bus will be outside your home. For those with mobility problems, they will help you on and off the bus, and there is also a wheelchair lift on all buses. They will tell you the time to be ready to be taken home again. Having put your shopping on the bus for you, when you arrive home they will carry your shopping indoors for you, or to your door, depending on how much help you need.
The drivers are all caring and helpful people. I value the fact that they take such care of my 100-year-old dad (probably their oldest customer!) and bring him to spend a day with me. My parents have used this service for many years from Milborne Port to Wincanton, but now with Mum's passing it is my dad who comes from a care home in Cary. He is helped on and off the bus and his walking frame is put on as well. He enjoys a ride to Wincanton, and chatting with his driver. One of the drivers was so interested in Dad's life story that he researched his family history and put together a small booklet about that and his service in the 2nd World War.
Please come and support the fund raising morning, have coffee, tea and homemade cake and help us raise a donation for this valuable community service.