Wincanton's focused community website, providing news and information including a full calendar
News » Charity » CAT Bus Ring and Ride
The CAT bus urgently needs financial support - can you help?
Friday 27 September 2019, 14:32
By Jayne McDougall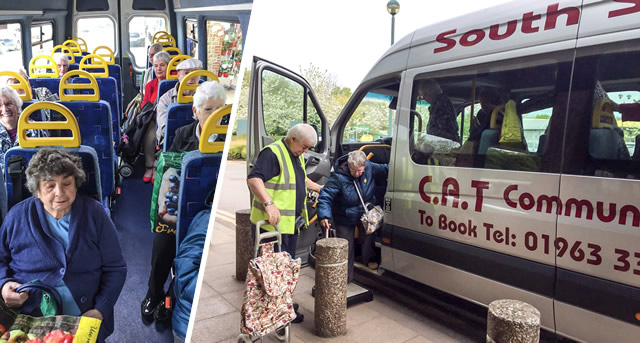 The CAT bus is a charity independently managed from an office in the Balsam Centre building, but it's struggling to secure funding to safeguard the future of the service.
The CAT bus is as busy as ever, offering new weekly trips to faraway places including Weymouth, Dorchester, Warminster, Poole, Street and Frome, whilst continuing to offer the valuable ring-and-ride service, helping people to stay independent for longer.
Many people are under the misconception that we are funded by SSDC and that they will support us. Historically they have been able to help financially but with all their budget cuts this is no longer possible. Though they are still very pro the CAT bus, funding has now almost ceased.
For a few years we were supported by funding from the National Lottery. Unfortunately, the last bid was unsuccessful resulting in a large deficit in our annual income.
Many of the funding opportunities are geared towards projects with specific criteria that we as transport providers are unable to meet. People offering this funding often overlook the need for transport in rural areas to enable people to access these projects.
Local parish councils have now included the CAT bus in their precepts which provides a much needed increase in income. We have increased the fares and membership, but we do not want to put the prices out of the reach of people who are on a low income.
For many of the people who use the CAT bus it is a lifeline, enabling them to live independently for longer, giving them a means to socialise and access groups and amenities as well as attend hospital and doctor appointments. We should remember that one day, perhaps in the not-too-distant future, we or our parents may need this service and it may not be there for us.
We are appealing to any businesses or individuals who may be able to offer some financial support, either a one-off donation or ongoing sponsorship, to get in touch. We are also registered with Gift Aid, so if you are a tax payer we are able to claim an extra 25% in addition to what you donate if you fill in a form available from our website or the office.
If you would like more information please visit southsomersetringride.org.uk, email or phone 01963 34594 to speak to Mike or Jayne.