Wincanton's focused community website, providing news and information including a full calendar
Headlines » Charity » Winky Kicks Cancer
Winky Kicks Cancer 2017 has begun!
Friday 16 June 2017, 23:57
By John Smith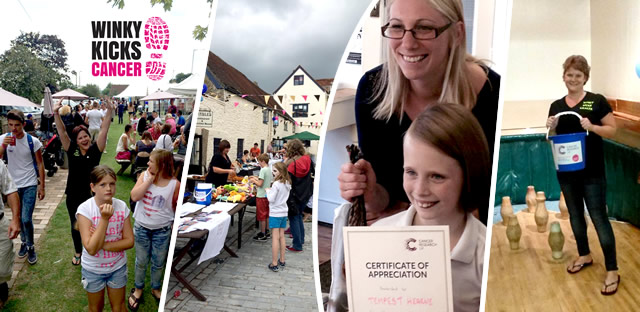 The Winky Kicks Cancer 2017 season began on Friday 9th June with an evening of Bingo in the Memorial Hall, and culminates on 5th August with a music festival at the Hunters Lodge. The programme comprises of a series of widely varied individual events taking place throughout Wincanton and the surrounding area, with plenty to appeal to all ages and tastes.
The goal is to raise money for Cancer Research, and there will be plenty of opportunities for you to get involved and support this excellent initiative.
Winky Kicks Cancer is an annual event founded by Kate Freeman who was diagnosed with breast cancer in 2013, just two years after losing her dad to prostate cancer. Kate had to have an operation, chemotherapy and radiotherapy to beat the disease. She didn't let it get the better of her and after her treatment had ended she declared war on cancer.
With the help of Paul Stiling and a few others they put together an afternoon of music, waxing, auction, raffle and more, and raised a phenomenal £3,500, all for Cancer Research.
In 2014 a few more people got on-board and the event was officially named. They organised a whole week of fun with lots of different events all around Wincanton, and raised £10,570! In 2015 they raised another incredible £10,000.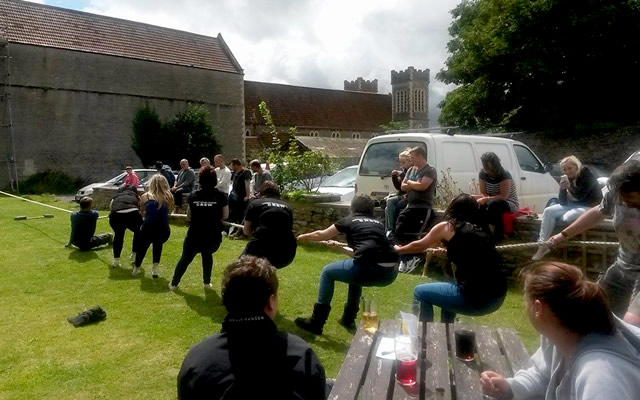 In 2016 only a couple of small events were organised due to Kate discovering that her cancer had recurred, spreading to secondary cancer in her bones. After a few months preparing for the new battle, and finding the right medication, she decided Winky Kicks Cancer was going to come back bigger and better than ever.
Typical of Kate's positive attitude she said:
"This illness has affected far too many people in my life and I will not let it get the better of me. With the community of Wincanton supporting us I know we can raise so much more money to help find better treatment and hopefully one day a cure. We are also about raising awareness of cancer, as early diagnosis means more chance of being cured."
Cancer does not mean the end. Kate lives life to the full with her diagnosis, as many others do. She believes that a positive mental attitude can be a very powerful tool. Kate wants us all to stand united and give cancer the boot, raise as much money as we can, and have lots of fun in the process.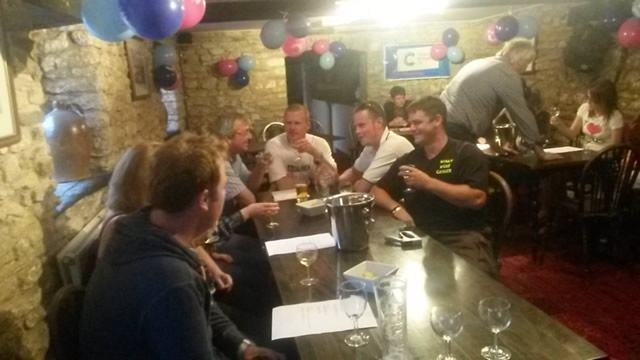 The following events have already been organised, and you can find them all on the Wincanton Window Calendar. Kate and the team look forward to seeing everyone at the various events and hope that you will help make this year the best yet. For any event information please email or call 01963 202379 or 07727043381.
17th June
Children's fun day and BBQ at The Millers Inn - 2pm till 6pm
Bouncy castle, face painting and lots more.

25th June
Quiz night at The Bear - 7:30pm
Teams of four, £2 entry per person.
Raffle and nibbles.

6th July
Nog comedy night - 7:30pm
Tickets £15 (which can be purchased from The Nog Inn)
Ticket includes a pull pork roll.

8th July
Sponsored walk from Uncle Tom's Cabin to The Smithy and back.
Optional Fancy Dress
12 noon Start
Sponsor forms can be collected from Uncle Tom's.

Karaoke at Uncle Tom's - 8:30pm
£1 to sing a song.

12th July
Skittles tournament at the Mill Street Social Club - 7:30pm
Three balls for £1.00, have as many goes as you like.
Men, women and children's heats. Prizes to be won and a raffle.

13th July
Coffee morning at Central Cafe
The proceeds of any tea, coffee, latte or cappuccino served between 9am - 12pm will be donated to Winky Kicks Cancer.

15th July
Lip Sync Challenge at Uncle Tom's Cabin - 7:30pm
Be the star you've always wanted to be and lip sync your favorite singers.
Cash prize for best act.
£2 entry fee.

22nd July
Dolphin Hotel sports day and auction - 2pm
Old school sports day with music and food. Fun games for adults and children. Bouncy castle and raffle.

29th July
Dog show at The Smithy Inn with Pigalicious hog roast - 2pm
6 categories with 1st, 2nd and 3rd rosettes and a trophy for judges' favourite.

2nd August
Uncle Tom's darts night with Bob Anderson - 8pm
Come and play the legendary darts player and see if you can beat him.
£5 per ticket, available at Uncle Tom's.

5th August
Music festival at The Hunters Lodge - 12 noon till late
Cider bus, £3 a pint, BBQ, train.
A fun packed day with music and children's activities.
Here is the line-up in no particular order!

KARAOKE COMPETITION WINNER
SHOCKWAVE
KILL THE MESSENGER
SOUTHERN BROTHERHOOD
SOUNDS LIKE SILVER
TOM & THE CLEMENTYNES
ELVIS TRIBUTE
ANDREW RIVERSTONE