Wincanton's focused community website, providing news and information including a full calendar
Headlines » Charity » Winky Kicks Cancer
Wincanton Wheelers ride for Winky Kicks Cancer this Sunday
Friday 20 July 2018, 19:13
By John Smith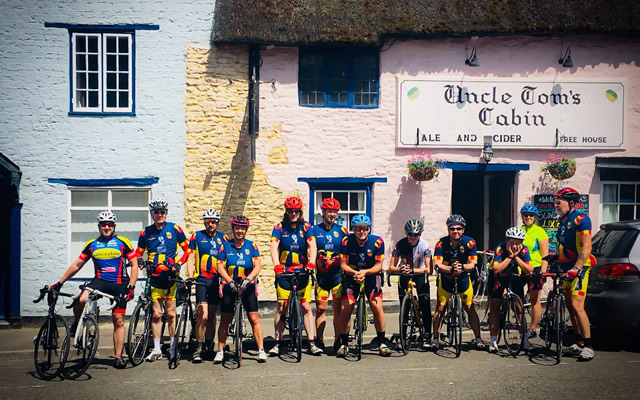 Local cycling group, Wincanton Wheelers, is running a charity cycle ride to help raise funds for Winky Kicks Cancer. The ride takes place on Sunday 22nd July, starting from the Wincanton Memorial Hall.
There are two separate courses of 25 and 50 miles. Cyclists opting for the 25 mile course need to sign in by 9:15am to set off between 9:30 and 10:00, but cyclists opting for the 50 mile course are required to sign in at the slightly earlier time of 8:45am to set off between 9:00 and 9:30.
All cyclists will stop for refreshments at Thyme after Thyme, Spire Hill Farm, near Sturminster Newton, DT10 2SG. Thyme after Thyme is opening specially for this event, as they don't usually open on Sundays.
The destination for all cyclists is Uncle Tom's Cabin on Wincanton High Street, who will be arranging some food, and certificates for those who would like one. Uncle Tom's is one of the club sponsors, and the charity ride was their suggestion.
There is no entry fee for the event, but entrants are asked to make a donation to Winky Kicks Cancer. There's no need to book in advance, you can just turn up on the day. Event information will be provided to all riders at the start of the ride. Routes will be signposted, and it is hoped that support volunteers will be present at a few key junctions.
There are no age restrictions, but children should be accompanied by an adult. As far as cycles types are concerned, if it can be pedalled it qualifies. Even electric bikes are acceptable; it's all about the cause. Cyclists are invited to be as creative as they want, so why not cycle in fancy dress? As long as your dress is safe to ride in, that's fine.
Raising funds for Winky Kicks Cancer is a worthy cause, so please do your best to support Wincanton Wheelers by either joining the ride, or sponsoring the riders.
Wincanton Wheelers
Wincanton Wheelers was started and registered with British Cycling in 2017, to be inclusive of any person wanting to cycle in a group, with an emphasis is on enjoying social cycling. They have regular Saturday rides that are always at a comfortable pace for all, and most importantly, features a coffee and cake stop! Sunday rides are typically longer but still have the crucial cafe stop. They also often have one-hour rides on Tuesday and Thursday evenings, ideal for anyone new to cycling.
Though they're a new club they plan to include as many interests as possible, such as club rides, family rides, time trials, circuit racing, and organised trips. If you are interested, check out their website at wincantonwheelers.co.uk.
Winky Kicks Cancer
Winky Kicks Cancer started in 2013, and has gone from strength to strength since. For 2018 they are definitely ramping up the pace. They've already held six events since May 23rd, climaxing with their Summer Music Festival at Wincanton Sports Ground on 30th June, but there's more to come. The following events have already been planned.
July 21st – Ultimate Pro Wrestling in Wincanton Memorial Hall
July 22nd – Charity Cycle Ride, starting from Wincanton Memorial Hall
July 28th – Sports Day at The Bear Inn, Wincanton
August 4th – Darts Marathon at Uncle Tom's Cabin, Wincanton
August 11th – Race Night at Uncle Tom's Cabin, Wincanton
August 18th – Bingo Evening at the Mill Street Social Club, Wincanton
August 30th – David Tsonos Comedy Night at The Nog Inn, Wincanton
September 1st – Holbrook Health Club Open Day and WKC Fundraiser
September 8th – Lip Synch Challenge at Uncle Tom's, Wincanton
For more information about past and future fundraising events, visit the new WKC website at www.winkykickscancer.co.uk/projects.