Wincanton's focused community website, providing news and information including a full calendar
Headlines » Churches/Religion » Quakers
Who and What are the Wincanton Quakers?
Thursday 1 January 1970, 01:00
By John Baxter
This October 8th-14th 2008 Wincanton's Quakers organised a series of meetings to explain to people who they are and what they stand for so I thought I would go along and find out. What I discovered was a group of around twenty-five people from Wincanton and the towns and villages around who regularly turn up at the Friends Meeting House behind the Museum in Wincanton High Street on a Sunday morning.
They then sit around a small table in complete silence for an hour. This is only interrupted if any of them feels moved to get up and say something they think is worth sharing. This though is in a sense secondary for the overwhelming impact and purpose of the meeting is to experience the presence of God or of transcendence in the corporate silence. This then is the form Quaker worship takes.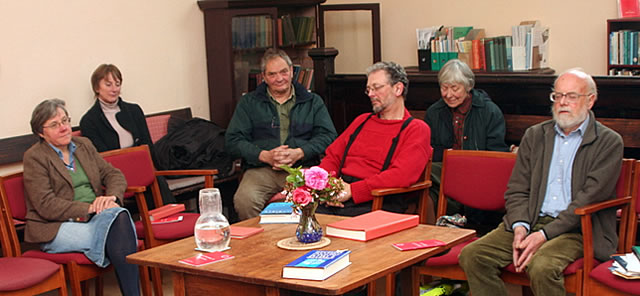 At the end of this silence everyone shakes hands and there is a time of discussion about other meetings or what members of the group have been doing. Again anyone who wants to contribute does so, and many do. Everyone then repairs to another room for coffee and biscuits. Unrestricted conversation then flows and it is pretty obvious this is a group of friends who all know each other and are concerned about each other. The atmosphere is happy, relaxed and open and as a visitor I was welcomed, but in no way confronted by an "I know better than you" earnestness.
I talked quite a bit to Richard Porter. He is Clerk of the meeting and I learnt that although the Quakers or the Religious Society of Friends as they are properly called, are a Christian based movement which arose in the mid seventeenth century, this is an intellectually open church without a creed and which emphasises that every person should respond to "the light within" or that "it is by looking into their inmost hearts people can have direct communication with their Creator."
"What," I asked, "if you do not think there is a creator?" Richard's response to my surprise was that this is no bar to membership. He knew there had been several members of the meeting who said they did not believe in God, but who still found great value in sharing the silence and friendship of the meetings. Having experienced it I could see his point.
He then told me the first Quakers in Wincanton had been imprisoned in 1654 for interrupting the sermon in the parish Church and that from 1700 the Bracher family had built a succession of Meeting Houses on their own properties in the town, the earliest being on the site of the Red Lion, so the Quakers have had quite a presence here. The present Meeting House was purpose built in 1876. Membership today, Richard said, is as large as it has ever been, and is quietly flourishing.
There is of course lots more one could say about what Quakers think and do and the positive contributions they have made to society in supporting prison reform and peaceful conflict resolution to mention but two, but if you are one of those who does not want to be told what to believe but to think things through for yourself and would like to meet others with a similar approach to a spiritual path or religion, then perhaps you might find meeting the Friends at 10.30 am on a Sunday worth a try.
John Baxter