Wincanton's focused community website, providing news and information including a full calendar
Headlines » Charity » CAT Bus Ring and Ride
The CAT 'Bus Ring and Ride - You Have Probably Seen It Around Town but What Is It and Who Can Use It?
Monday 26 October 2009, 19:01
By Andy Chilton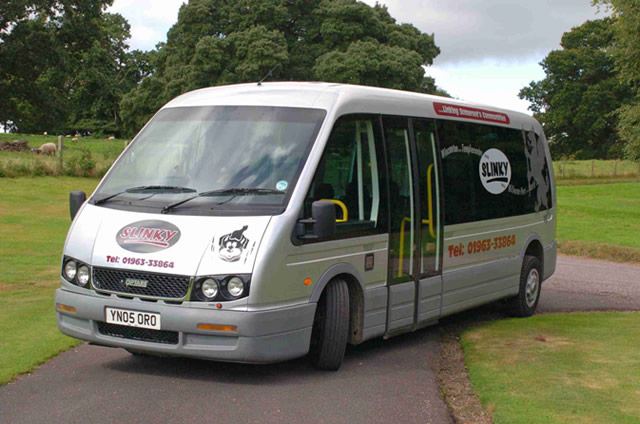 We are a transport scheme using Minibuses and serving the towns of Wincanton, Bruton, Castle Cary and surrounding villages. The CAT bus is available to people of all ages who live on a normal bus route but are unable to use it because they have mobility difficulties or their local 'bus service does not meet their needs. In villages which have an irregular or no 'bus service, anyone can use our service.
We operate as a limited company and are a registered charity, which is non-profit making. The scheme is self-supporting and fares must therefore reflect the cost of providing the service. Holders of 'bus passes travel free within our operating area as shown in our brochure.
TO USE THS SCHEME.AND BECOME MEMBER OF THE TRAVEL CLUB
Ring 01963-33864 and ask for a Registration Form for the Ring and Ride Scheme. This will be sent to you together with a map showing the operating area. A one-off Membership fee is required which can be paid to the driver on your first journey. You are then a member of the Travel Club. A list of fares payable for your journey will also be enclosed. Fares are payable to your driver.
TO MAKE A BOOKING
1 - Ring 01963-33864 before you need the service between 9.30 and 12.30 Monday to Friday. For Monday journeys ring on the previous Friday.
2 - Give your name and address and telephone number.
3 - Day and date of travel and pick-up point and time.
4 - Destination and return pick-up point and time.
5 - Special requirements e.g. wheel chair etc.
6 - Be ready 10 minutes ahead of pick-up time.N:B: Times may have to be altered slightly to fit in with other bookings to same destination.
What is THE SOCIAL CAR SCHEME?
If you require transport for a medical appointment outside the operating area of the CAT 'bus we may be able to arrange this using one of our volunteer car drivers. (Users must join the Travel Club if not already a member). There is a current charge of 40p per mile payable to the driver.
This is a very popular service but...
WE ARE IN URGENT NEED OF MORE VOLUNTEER DRIVERS
Drivers use their own car and are paid 40p per mile. There is insurance to safeguard the drivers' excess and no claims discount.
If you are interested and would like more information please contact:
Mike or Jayne on 01963 34594 or email: .