Wincanton's focused community website, providing news and information including a full calendar
News » Churches/Religion » Methodist Church
Wesley and Wincanton Methodists
Wednesday 26 May 2010, 18:46
By John Baxter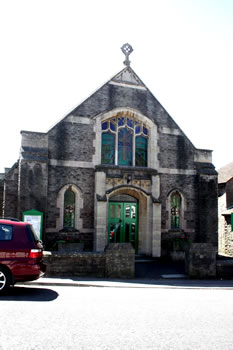 Wincanton Methodist Church is a handsome building standing in Wincanton High Street. Built in 1873 it replaces an earlier chapel in North Street. That however was not the start of it for the Methodist community here was actually founded by John Wesley himself.
An Anglican priest and Fellow of Lincoln College Oxford, John Wesley was the son of the vicar of Epworth. At university his enthusiasm for the disciplined and "methodical" practice of his faith got him, his brother Charles and his friends in the "Holy Club" the nick-name "Methodists", a name like "Quakers" which has stuck.
John Wesley never intended to break away from the Church of England but was forced to do so because he felt called to preach not just to the better off and their staff, but to ordinary working people like the weavers of Wincanton as well as the poor and discarded. This did not go down well with those who valued their social position and they denied him permission to preach in parish churches. This led him to set off around the country on horseback and with quite amazing energy and effectiveness he preached in the street and out in the countryside, increasingly attracting huge crowds as his reputation grew.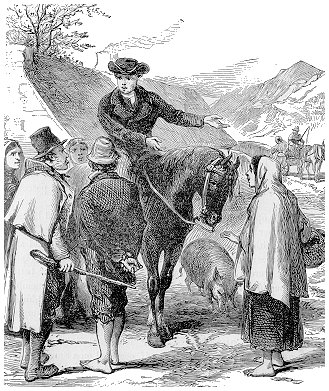 In 1762 he rode to Wincanton from his base in Bristol (where his first church can be seen today,) In his Journal he says it was a cold, rainy day, but he was well received and preached in "a large meeting house." His preaching clearly had an effect for a year later in 1763 he came again. "About 6pm I preached in a meadow in Wincanton. I suppose this was the first field preaching which had been there. However the people were all quiet and the greater part deeply attentive. At 9pm I preached in the same place to a far more serious audience."
In 1764 he spent a night in Bayford, preaching on a Monday evening and the following Tuesday morning before riding off to preach in Frome. He came again to Wincanton in November 1765. Finally he came five years later in 1770. This time he seems to have been in a rather less happy mood for he described Wincanton as "one of the dullest places in all the county" and submitted his congregation that evening to a sermon on Death and one on Hell the next morning. This did not, it appears, put the people off for the congregation flourished.
WORSHIP IN THE CHURCH TODAY
Very attractively appointed, the building is entered by a pleasant foyer where I was greeted and given a hymn book. While John was an outstanding preacher, his brother Charles must be considered one of the greatest composers of Christian hymns, for his hymns have been adopted by virtually all denominations and are well known and loved around the world. They remain the mainstay of the Methodist hymn book.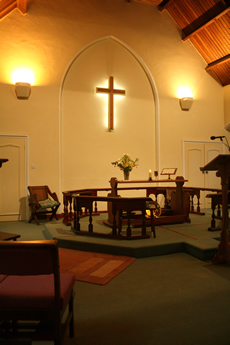 Going into the Church I found there was a fine organ being beautifully played by their organist, Margaret Kelly. The service was taken by Miss Anna Flindell who is a Student Minister undergoing training to become a full Methodist minister. She also works part-time as Free Church Chaplain at Guy's Marsh Prison. The minister in charge of Wincanton is the Revd Sooncheol Choi who is also responsible for Sherborne.
This was the normal Sunday service and it consisted of six hymns, prayers, readings from the Scriptures and a Sermon. Methodists do not use a prayer book and prefer prayers to be "extempore", that is spoken from the heart and not written down first.
On the wall at the front there is an illuminated empty cross, seen as a symbol of the risen Christ, and between the lecterns used for reading and preaching, there is a wooden communion table. On this had been placed a single candle, a silver chalice, the Communion Service Book and a vase of fresh flowers. The communion table is surrounded by a wooden communion rail and Communion is celebrated monthly, using a form very similar to that in the Church of England. except the "wine" is alcohol free and administered to communicants in small individual cups.
The sermon I heard turned out to contrast nicely with John Wesleys's last sermon in Wincanton for instead of it being on Hell, this was on Heaven, emphasising the Christian teaching that death is not the end, but the gateway to a fuller life with God. Well prepared and delivered, it contained a lot to think about.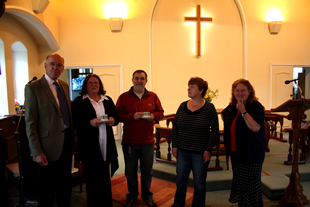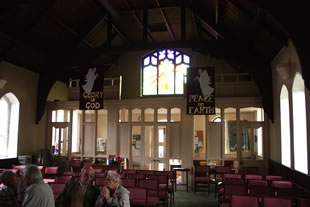 At the end of the service almost everyone out of a congregation of around thirty stayed on for coffee, tea and friendly conversation. In addition I found many had booked in to have Sunday Lunch together in the Church Hall which is directly behind the Church. This struck me as a really good way to deepen friendship among members and it added to my sense that here I had met a real community.