Wincanton's focused community website, providing news and information including a full calendar
Headlines » Charity » Macmillan Cancer Support
The World's Biggest Coffee Morning
Friday 28 September 2012, 17:18
By John Smith
On Thursday 4th October Wincanton Baptist Church plays host to "The World's Biggest Coffee Morning". Ok, Wincanton will not host The Biggest Coffee Morning all on its own, but it will indeed host part of The World's Biggest Coffee Morning.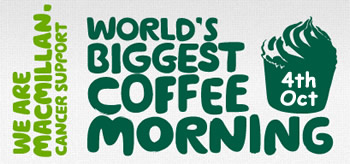 This is an amazing event that will be held in venues throughout the country to help raise funds for Macmillan Cancer Support. We want to invite you all to join us at:
Wincanton Baptist Church Hall
4 Mill Street
Wincanton
10:30am till 12 Noon.
This will be one very special event with plenty of tea, coffee and especially a mountain of cakes available for all to enjoy. It's a great time to relax in good company and have a nice chat/blether, with the added bonus of helping to demolish the cake mountain. Come and enjoy this super coffee morning and help by giving a donation to Macmillan Cancer Support.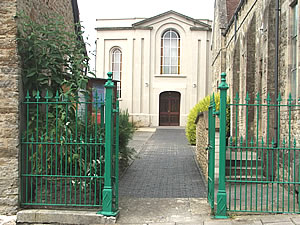 Thursday 4th October is the normal day for "Listening Ear", a meeting set up by The Baptist Church to allow people to relax and share over tea, coffee and cake. Clearly those of you who attend Listening Ear are well practised and able to cope with the challenge. So if you are free, come and help us to overcome this mountain of cake.
On a serious note, this event is all about raising contributions for Macmillan Cancer Care. I can't think of a more worthy cause. I have to declare a personal interest having lived with a cancer diagnosis for many years. I am one of the fortunate ones who haven't had to endure the challenge of chemo, or radiotherapy. The day I arrived at The Macmillan Unit to have my cancer "staged" was a real eye-opener. Sat there in the waiting room I started to recognise familiar faces from Wincanton. People who lived every day with cancer, and just got on with it without creating any fuss. It was a truly humbling moment. Like the vast majority I can testify to the professionalism of all the Macmillan medical and administrative staff. Without them many of us would have a much harder walk through the territory of cancer.
So I appeal to all of you to support this very important event. This is not just an event for those who already have cancer. This is also for all those in this area who will get cancer. We all need to take on board that it doesn't always happen to someone else. Cancer is a diabolical illness that strikes where and when it wants. Please do your best to join with us. See you on 4th October.