Wincanton's focused community website, providing news and information including a full calendar
Headlines » Churches/Religion » Community Church
Sunday Praise in the Community Church
Thursday 1 January 1970, 01:00
By John Baxter
Wincanton's former Art Deco cinema has for some time now been the worship base for the Wincanton Community Church, an Evangelical congregation affiliated to the Assemblies of God led by its pastor David Robey and his wife Corinna.
"Love God, Love Life, Love Others", was the message boldly displayed in the foyer where I was welcomed by David and then by several other members of the congregation keen to help me feel at home. On display also were DVD's of David's sermons. These could be borrowed by anyone who had missed a service or was unable to attend. I thought that a bold and interesting move in these days when some can almost be apologetic about their preaching. Why not I thought. If a church leader has worked hard preparing to say something worthwhile it is easy to use the technology to allow people to play it again and it could be much appreciated by the elderly and housebound – but not only by them.
The cinema is quite a big building so the congregation of between 40-50 (43 counted) on this last Sunday in January had plenty of space to spread out. Certainly they make up the youngest congregation I have seen in Wincanton with many small children who were accompanied by their mothers and some by their fathers as well. There were also several teenagers and young adults present.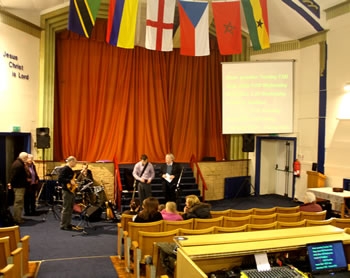 Rather like Wincanton Baptist Church a large screen was prominent on which were projected not only the words of the songs we sang, but also the "Love God, Love Life, Love Others" theme and details of all the activities the church runs during the week. These were for men, for women, for toddlers and the youth club, so it seems there is a lot going on. In addition David encouraged members to sign up for the Lent Course run by Wincanton Churches Together.
Hanging from the ceiling were a variety of flags representing countries the church has links with or supports work in. There was also a handsome processional banner with a cross and the words Wincanton Community Church embroidered on it, but apart from that no other symbols.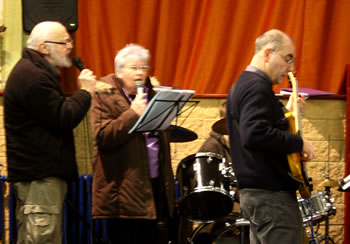 At ten thirty the musicians took up their positions on the left at the front. They consisted of a keen young teenage drummer (who had earlier introduced himself to me), an electric guitarist and two vocalists. David Robey then joined them as lead guitarist and singer. With that the music took off with a pulsing, throbbing beat and everyone stood up and joined in. The sound was well amplified and the mood joyful and relaxed. One felt immediately this was something everyone had been looking forward to and was enjoying. There was quite a bit of swaying and arm waving in time to the music and the children were clearly a lively part of it all.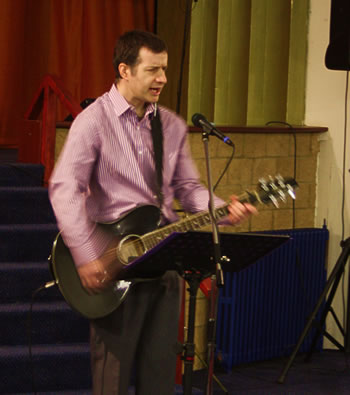 Quoting Genesis 3;9 where God asks Adam the question, "Where are you?" David wove this into the singing and prayers as a theme for reflection. Several songs were sung, all on the theme of praise and between them, quite spontaneously it seemed, members of the congregation expressed themselves in prayers which usually echoed the words they had just sung. One man also "spoke in tongues" an expression of praise and worship using words or sounds of no known language. Clearly this is regarded a normal part of the service.
After the next round of singing David invited any member of the congregation who wished to come to the front of the church, take the microphone and give a testimony as to how they were experiencing their lives as Christians. To my surprise a good number came up and did so with quite relaxed self-confidence. Some made generalised expressions of how they felt God's presence had been with them, others related how they felt God had helped them face particular difficulties at work, at home or in supporting someone they knew who was seriously ill. I found those moving and impressive.
What came next was clearly a high point for all the children and their parents. A video which I learnt was Australian in origin, was projected on the screen. To the accompaniment of loud Christian rock music it showed a huge crowd of young people dancing enthusiastically and singing words which were also projected. Immediately all the children and their parents came up to the front to join in with the singing and dancing. Clearly they were all having a very happy time.
When the video drew to a close, David sent them off after a brief prayer to go upstairs for the crèche and to the backroom for Kingdom Kids. This of course nearly halved the congregation.
That was the signal for the musicians to put aside their instruments and take their seats in the congregation and for David to put on his jacket, open his Bible, read and then preach on the words (I John 4:7) "Beloved, let us love one another; for love is of God, and he who loves is born of God and knows God. He who does not love does not know God, for God is love."
In a thoughtful and carefully prepared sermon he challenged his listeners to think how these words could be put into practice, ending with an invitation to anyone who felt they needed to be baptised or who felt they had not yet been "born again" to come and talk things over with him.
The service ended after an hour and a half with an invitation to everyone who wished to, "Come upstairs for soup and sandwiches. Bring your own sandwiches, but we have lots of soup." This is something I then heard they do once every month and provides a good opportunity for everyone, adults and children, to eat together and get to know each other better. Again that struck me as easy, simple and a very good idea and most people stayed on for it.
John Baxter