Wincanton's focused community website, providing news and information including a full calendar
Headlines » Churches/Religion » Quakers
The Quakers - The Religious Society of Friends Outreach Week
Friday 8 October 2010, 13:09
By John Baxter
WHAT GOES ON IN HERE? Find out this week.
The Religious Society of Friends is the proper name for this community and we are usually referred to as Quakers or just as Friends.
QUAKER OUTREACH WEEK. 2nd – 10th OCTOBER 2010
The Wincanton Meeting House will be opening on Friday 8th (10.00am to 3.00pm) & Saturday 9th (10.00am to 1.00pm) October. Not only will this give you a chance to see the building (which dates back to 1876, though there were Quakers here long before that) but there will be Quakers there to let you ask questions and there will be refreshments.
Then - on Sunday 10th in addition to the usual 10.30 am Sunday Meeting which lasts an hour, there will be a half hour Meeting for Worship at 3.00pm with refreshments afterwards. Anyone interested in finding out about the Quaker approach is welcome to come down the path between the shops in the High Street opposite Andrew Barclay the butcher and come and meet us.
"A simple lifestyle, freely chosen, is a source of strength."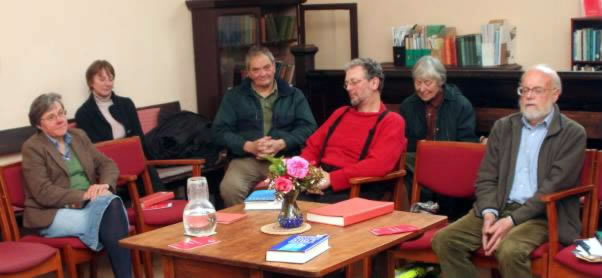 To read more about us see earlier articles and visit www.quaker.org.uk Then again you might be able to visit one of the other Quaker groups.
LONG SUTTON
...will be holding Open House on Wednesday 13th October with a Bring & Share Lunch at 12.30pm - there will be a short film about the healing work of Lynn Shorthouse, a Long Sutton Member, who has worked with Woza Moya in Kwa Zulu Natal – this is an opportunity to get to know Friends and others in an informal setting. In the evening, the Boy Scouts will be coming along to learn about Friends.
CONTACT 01460 271 008 for more information
STREET
...is giving everyone a chance to learn more about contemporary Quakerism – on Tuesday, 5th October, at Street Quaker Meeting House, 37 High Street BA16 0EB, there will be a talk entitled Being A Quaker in the 21st Century – this will include a multi-media presentation and a section for "Ask a Quaker a Question" - doors open at 7.15pm for 7.30pm and the programme will last for about an hour and a half, followed by refreshments, displays and a chance to chat.
Contact 01458 441 303 for more information
WINCANTON
CONTACT 01458 850 993 for more information