Wincanton's focused community website for news, views and information including a full calendar
Headlines » Churches/Religion » C of E Parish
Parish Church Roof Repair Gets Underway
Thursday 14 February 2013, 18:11
By Richard D'Arcy
In 2009 a quinquennial report identified part of the parish church roof was in need of major repair. This news produced the daunting prospect of raising a substantial sum of money, in a short space of time, to enable the repair to be undertaken.
In March 2011 a fundraising group was set up to assist in raising money towards the project cost of £243,000. Many events were organised by parishioners, grant applications submitted and appeals to the wider community were made. Miraculously some eighteen months later it was announced sufficient funding had been secured to enable work to commence.
On October 29th 2012 the scaffold company arrived and started the erection of scaffolding around the church, which was to take two weeks. Part of this work involved a specialist company whose task was to remove the clerestory, upper level windows. This enabled scaffold to be passed through each window to assist in forming a supporting scaffold structure.
A false roof which took a "tent-like" shape was then erected above the existing church roof, thus providing protection against inclement weather.
After the successful completion of this phase of work the repair work was able to commence. This task is being undertaken by R Moulding & Co., who specialise in this type of project, amongst others. In fact they have an extensive portfolio which covers projects ranging from ecclesiastical building restoration to bespoke new builds of all types.
Prior to working on the roof an impressive attention to detail has been undertaken by them in order to prevent possible damage to all other parts of the existing church fabric.
Protection is clear to see on the pews, floor and pillars etc. in the main body of the church (no public access to this area).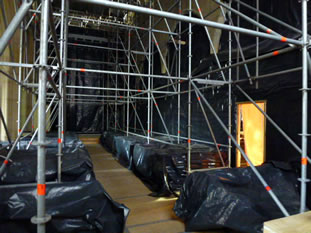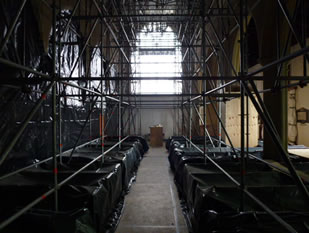 The first task was to remove the defective lead which exposed the timbers underneath, enabling a closer examination for any defective timber or other problem areas. It was somewhat of a surprise to see the method of construction for some of the supporting structure, which took place cir 1887.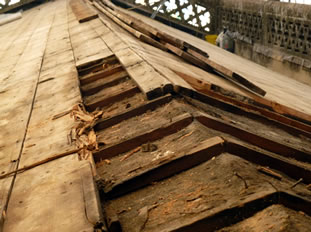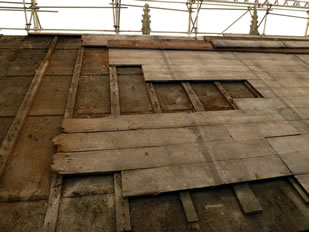 Work is currently being undertaken to improve the supporting structure, ensuring it is able to take the weight. This involves the work of a structural engineer. Remedial work to wood work and lead work has to be undertaken.
Some possible repairs to the tower and external drains are being considered at this time, which may prove to be a more cost effective approach.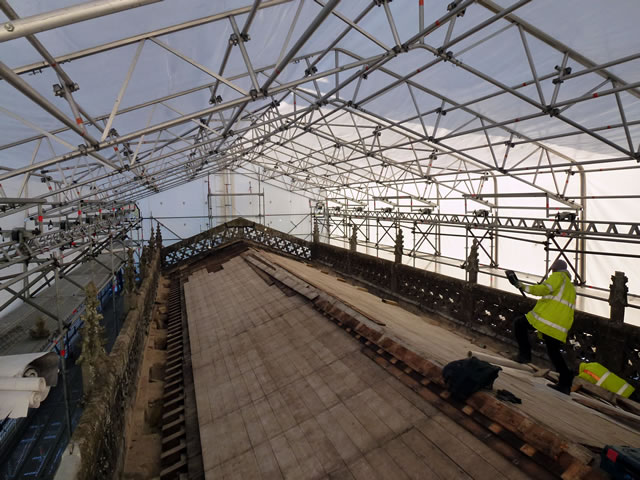 During this period of unavoidable turmoil within the main part of the church, whilst the roof repair is being undertaken, regular services have continued with access via the south door. These pictures show the south aisle which is currently being used for services. It is partitioned from the part of the church under repair, by a black polythene screen.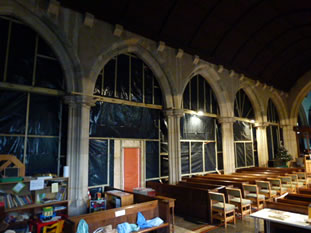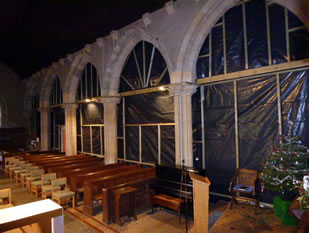 It is anticipated work will be completed at the end of April 2013.
A further update will appear as work progresses.