Wincanton's focused community website, providing news and information including a full calendar
Headlines » Churches/Religion » Baptist Church
National Back to Church Sunday
Monday 20 September 2010, 17:30
By Andrew Ireland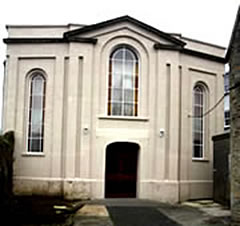 National Back to Church Sunday is on Sunday 26th September. This is an annual event which involves churches drawn from Baptist, Church of England, Methodist and United Reform traditions. Wincanton Baptist Church is one of over 400 Baptist churches taking part. The aim is to ensure visitors whether going back to church after a long absence, or trying one out for the first time, of a warm welcome to an easy to follow service.
This year the invitation is to 'Come as you are', which reflects the way in which people came to, and were accepted by, Jesus during his life as described in the Bible. We in Wincanton Baptist Church invite with you to join with us on the 26th for our Harvest Service and to 'Come as you are'. The service starts at 10:30am, but doors will be open from 10am. During the service we will be making a financial collection for 'The Lord's Larder' in Yeovil. This is a Christian group that collects/buys food to make up hampers for those in need in the Yeovil area.
All ages will be together for the first part of the service, but then the children will go to another room for their own activity. After the service we will be having a lunch to which all visitors are warmly invited.
If you require more information please contact Andrew Ireland on
You will also be able to get information of our weekly activities on our new website, which should be up and running soon.
Wincanton Baptist Church is to be found in Mill Street, not far from the Post Office. Parking in Mill Street is limited and so if you are travelling from outside Wincanton we would suggest using one of the Free Municipal car parks and walking the short distance to the church. The entrance to the church grounds is marked by green metal gates and a notice board. The actual church building is set back from the road.