Wincanton's focused community website, providing news and information including a full calendar
News » Charity » Live at Home
Art Exhibition in the Methodist Church, Saturday 6th November
Saturday 23 October 2010, 15:41
By Dee Chilton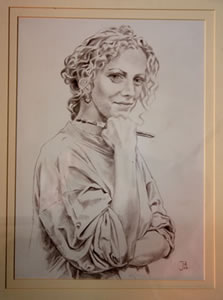 Portrait by John Baxter
ART EXHIBITION & CRAFT FAIR
There will be an Art Exhibition & Craft Fair in aid of the Wincanton Live at Home Scheme on Saturday 6th November between 10am & 3pm in the Methodist Church and Hall in Wincanton.
All proceeds will go to the scheme in direct support of members.
(portrait drawing by John Baxter)
CHARITY FUNDRAISING CALENDAR
We have created a beautiful high quality calendar depicting lovely scenes of wildlife using superb photographs kindly donated by a local photographer (Sarah Bloodworth), and which has been professionally designed and created by Sarah's sister Tracy Bloodworth who is a designer at the Design Studio at WaverleyTBS, and printed by Wincanton Print. The calendar is on sale now from the scheme office and also available from Papertrees on the High Street in Wincanton as well as the Town Hall Community Office. All proceeds will go to the scheme in direct support of members.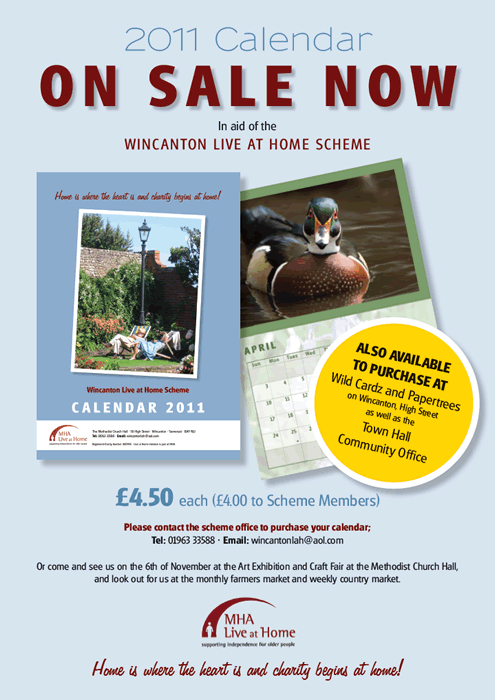 CHARITY FUNDRAISING QUIZ
We are also have a written quiz currently running which is being sold around the town (closing date 20 Nov 2010) which has a cash prize of £20. The quizzes are available now from the scheme office. All proceeds will go to the scheme in direct support of members.
Both the Calendar and the Quiz will also be available at the Farmers Market in Wincanton held on the 1st Friday each month and from the Wincanton Country Market every Friday morning.
Contact details for the office are Tel: 01963 33588 or email:
Dee Chilton (Scheme Administrator)
on behalf of
Rebecca Thurgood (Scheme Manager)
---
Profile of Wincanton Live at Home Scheme
A small charity set up in 1997 offering support and befriending for older people in Wincanton and the surrounding towns and villages. We provide direct support to older people who are feeling socially excluded, isolated, lonely or who just want to get involved. We help them to remain independent in their own homes and provide opportunities to get out and meet other people and make new friends. We organise social activities including pub lunches, theatre trips, outings, sightseeing tours and shopping trips, Sunday lunch clubs and holidays.
Profile of Sarah Bloodworth, Photographer of Nature:
Autumn is my favourite time of year. In the early hours of the morning a light mist forms in the valley where I live and as the sun rises the mist reflects the purples, pinks and oranges that light up the sky. As I walk through the fields near my home I hear the crows and jackdaws calling out as if to greet the rising sun. I see a deer venturing out of the surrounding woodland to feed, not noticing my presence. A smell of fresh, moist soil that you get after a storm fills the air as I near the river that runs along the bottom of the valley. As I walk on I disturb a buzzard from its slumber which cries out in protest as it disappears into the mist. In the distance there is sign of human life as I can just see smoke, barely visible in the mist, billowing from a chimney.
This is why I love nature so much; the sights, smells and sounds of it evoke such strong emotions. It's the nostalgic, idealised nature that I love and it's not hard to see why when I live surrounded by it. I have to admit that I enjoy my walks amongst nature more than I enjoy photographing it as I believe I miss so much when I look through the view finder. I still enjoy photography as it enables me to express my feelings for nature. Both of my parents are the reason for my interest in photography, I remember they had a darkroom under the stairs and boxes full of strange and experimental images that my father had done. Photography was always a hobby for me until I went sailing on the Whitsundays in Australia. With the boat at a ninety degree angle and a couple of whales breaching close by I knew that I wanted to be a wildlife photographer.
The Wildlife and Environmental Photography course that I'm on has shown that there are many ways to achieve the concept that I'm after in my images. As nature is not as "perfect" as I would like it to be there are still steps I can take to get the effect I want thanks to my diploma in graphic design. This has given me many styles of photography and has shown me that I can be an artist as well as a wildlife photographer.
I'm now in my final year at Blackpool and Fylde College studying Wildlife and Environmental Photography, on
completion, I would ideally love to travel the world, working for the National Geographic. I hope to take pictures that have the ability to make a difference in the world and inspire people.