Wincanton's focused community website, providing news and information including a full calendar
Headlines » Charity
I would run 500 miles, and I would run 6500 more...
Thursday 21 February 2019, 19:23
By John Smith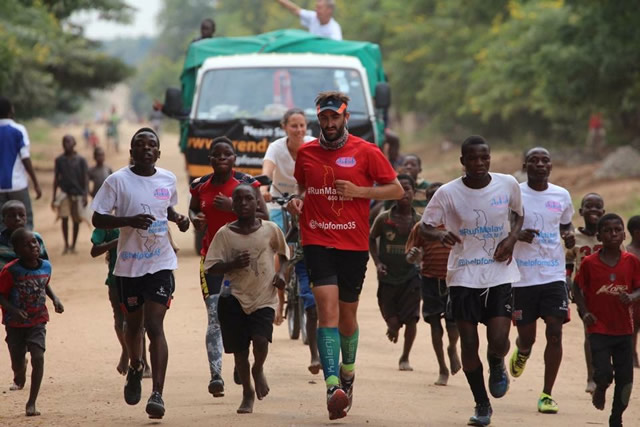 Born and raised in Wincanton, Brendan Rendall was in the news recently having completed, over the Summer of 2018, the extraordinary feat of running from the west coast of Africa in Namibia, clear across the continent to the east coast in Mozambique; 2,474 miles in 98 days. The equivalent of 94 marathons.
Now Brendan is contemplating his next challenge. Speaking at the National Running Show at the NEC in Birmingham on January 19th 2019, alongside inspirational runners such as Paula Radcliffe and Roger Black, he announced that he will be running the full length of the African continent, from Cairo to Cape Town, in 2021.
"I'll be covering between 6300 and 7000 miles, depending on the route I take.

"I know so many people think this is crazy, and it is. I've had some people say they're worried. I understand all of that. I've been building up for this since running the length of Malawi in 2016. I know what I have to do. I know I've not even got close to my fittest yet. I believe that with hard work on a strength and fitness plan, I can start this run in the best possible shape.

"I'm very excited for this challenge. I'll be looking to putting together an expert team, and I have some exciting leads already. I'm also looking for sponsors.

The hard work starts now. I'm excited about sharing the journey."

- Brendan Rendall - crazy-long-distance runner
The journey so far
Born in 1978, Brendan was brought up in Wincanton and educated at Wincanton Primary School, King Arthur's Community School and Yeovil College before heading off to university in Manchester.
At university Brendon led a self-destructive life style, overindulging in alcohol, drugs and clubbing, but life was about to change considerably. On New Year's Eve 2006, he took up a bet with friends to run the Wilmslow half marathon three months later. Brendan was extremely unfit and overweight, weighing in at close to 20 stone with a 42" waist, but he was serious about the bet so action had to be taken.
"I used to get up at 6am while it was still dark so nobody could see me, and literally ran lamppost to lamppost. I hated it, but it gave me the structure and discipline my life had been missing and that got me hooked."
At first progress was slow, but over the days and weeks his energy improved and he started shedding pounds, and that made him all the more determined to reach his goal. Brendan completed that half marathon in 1 hour 24 minutes. The achievement inspired him to run his first 10k race a month later, completing the course in a respectable 38 minutes and 5 seconds. He realised that he had become a decent runner.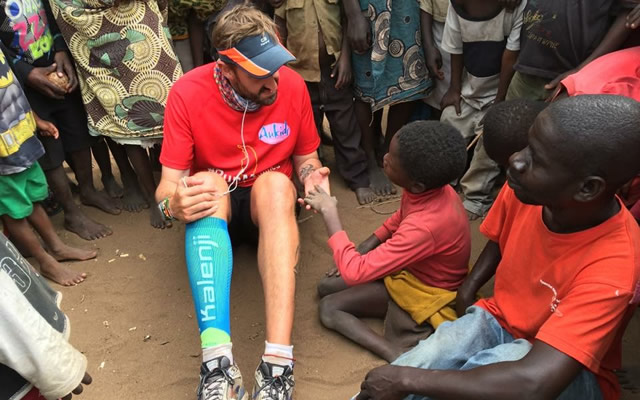 In 2008 Brendan took part in a cycle ride across Malawi for the charity ActionAid, during which he witnessed poverty at a scale he'd never experienced before. Malawi is one of the poorest countries in the world, and home to an estimated one million orphans. On returning to the UK he discovered the charity Friends of Mulanje Orphans (FOMO), and in 2009 returned to Malawi to visit the project and the 3,500 orphans it supports. Seeing the daily challenges the children faced, his heart went out to them and he decided to use his running to raise funds to support them.
Over the next ten years Brendon ran the Blackpool marathon, the York, Yeovil and London marathons twice, Manchester three times, and Windermere once. In 2011 he cycled from John O' Groats to Lands' End, completing the 1000-mile trip in thirteen days. He took a day off to run in the London Marathon. In 2015 he ran the famous coast-to-coast Wainwright route; St Bees to Robin Hood Bay, 192 miles in eight days.
Changing up a gear
In 2016, after the Yeovil marathon, Brendan decided to combine adventure and travel in a grand fundraising gesture to the children of Malawi. He became the first person on record to run the entire length of Malawi; 708 miles in 27 days; a 26-mile marathon every day, raising £35,000 to build an art and science block for FOMO Secondary School.
Six weeks after returning to the UK, he ran from John O' Groats to Lands' End; 962 miles in 35 days. In 2017 he ran the Ultra Great Britain 200-mile coast-to-coast trans-Pennine route in 80 hours.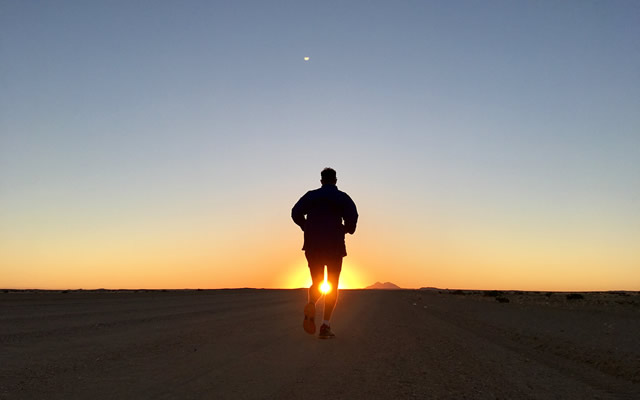 Back in 2008, inspired by his experiences in Malawi, Brendan left his job in retail management to work with adults and children with learning difficulties. In 2017 he qualified as a teacher for children with special needs. He now works as a teaching assistant level 3 at a special educational needs school in Manchester, splitting his time with fundraising, public speaking and preparing for this next adventure.
Despite having already achieved so much, Brendan still wanted to push himself further, and set himself the goal of raising funds for an accommodation block at the FOMO Secondary School in Malawi, so the children could avoid the 10km trek to and from school every day.
In 2018 he ran the width of Africa, from the West coast in Namibia to the East coast in Mozambique; 2,474 miles in 89 days, having only 7 days off due to illness. His route passed through Mulanje where he was able to reunite with the children who inspired him.
"People often ask me if it was safe to run across Africa like this, but everywhere I went I was met with absolute kindness. It gave me so much faith in humanity. They had nothing, but they gave us everything and I felt so grateful."
Brendon chose a team of five like-minded, self-funded people. The team and their vehicle carried the tents and daily supplies from start to finish. For 70% of the time, Brendan and the team were completely isolated from all modern conveniences and comforts; no showers, no toilets, searing heat and lost toenails. The wild life, scenery and people he met made up for all the hardships.
In preparation for his gargantuan undertaking of 2021, Brendan will be running another Ultra Great Britain event, 215 miles across Scotland in 100 hours – just a short warm-up. To date Brendan has raised in excess of £90,000 for charity and is now planning to write a book about his adventures.
Brendan was awarded Sporting Hero and The Gold Award at the Somerset I Believe Awards in 2017. In 2018 he won a prestigious Salford Alumni Award for his humanitarian work, and was named a Yeovil College Ambassador. He is also an ambassador for both Polar and GB Ultras.
So far £40,000 has been raised for the FOMO Secondary School accommodation building and the construction has already begun. £20,000 is still needed to complete the project. If you'd like to donate, or offer help or sponsorship to Brendan, please visit brendanrendall.com.