Wincanton's focused community website, providing news and information including a full calendar
News » Charity
Divine Wines Raffles Well Travelled Beaujolais for Wincanton Community Hospital
Saturday 21 December 2013, 10:09
By John Smith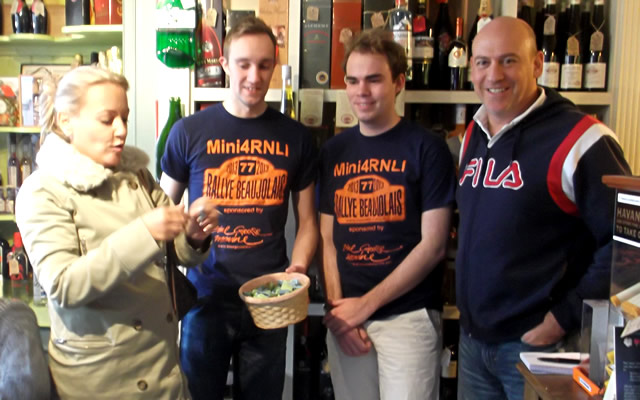 Stephen Davy-Osborne and Co-Driver Bryan Skant recently completed the Beaujolais rally in their classic Mini Cooper, Nicole, bringing with them a bottle of the new 2013 Beaujolais Wine to Divine Wines in Wincanton. Nicole was the only Mini to complete the journey without breaking down.
Jenny at Divine Wines raffled the bottle of wine to raise funds for The Wincanton Memorial Hospital. The draw took place on Saturday 14th December and raised £60.
Saturdays at Divine Wines is like watching bees round the honey pot. People like to relax and catch up with each other over a cup of excellent coffee/chocolate/wine. Jenny and staff are so busy that any pictures taken are more than likely blurred. They just don't stop. Eventually time was found to draw the winning ticket.
Julie Faris and Warren Krawchuk work in Dubai, but were here in Wincanton enjoying the Divine Wines experience. The previous evening Julie and Warren got engaged, so to celebrate their engagement they were asked to draw the winning ticket. Congratulations to lucky winner Janet Chambers. Enjoy that wine.
The Beaujolais tradition is built around the popularity of this young wine. It's not a wine that benefits by aging and has to be consumed young. Over many years it has become an annual race to bring the first bottle of the new wine to UK restaurants. The race was popular because of the extraordinary measures used to bring the wine across the channel.