Wincanton's focused community website for news, views and information including a full calendar
Headlines » Charity
Charlton Horethorne Rocks for Haiti!
Thursday 12 August 2010, 10:51
By Sue and Keith Gudgeon
On Saturday 26th June the village of Charlton Horethorne in Somerset, danced the night away for the Maison Fortune Orphanage in Haiti. Local band "The Diamonds", led by vocalist Fraser Henderson who, in the past, supported The Rolling Stones, Roy Orbison and Gene Pitney, played an endless range of 1960's numbers which had the assembled throng on its feet most of the night!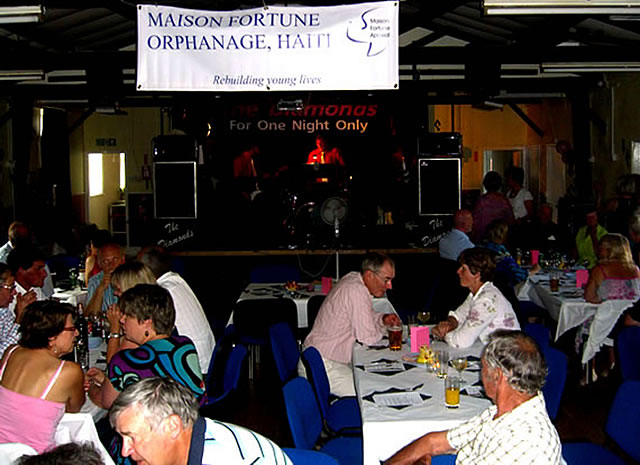 We started the Maison Fortune Appeal in May 2010 to raise funds in the UK for this Orphanage, which is providing care for children affected by the January earthquake. The evening was nearly thwarted however by a swarm of bees which attached itself to the Village Hall entrance just hours before the event! Jill and Richard Baker, local beekeepers, managed to contain the problem just in time before guests started to arrive!
OVER £800 RAISED
We made over £800 and have transferred sufficient funds to the charity's foundation the the US to buy one of the 5 solar panels they require for their solar energy project. Our next fund raising events are firstly on the morning of Friday 27th August we will be in the foyer of Morrisons in Wincanton where we will be selling copies of the book we wrote about refurbishing and running the village shop in Charlton Horethorne. All the proceeds will go to the Appeal. Then, on 23rd October we are holding an Art and Craft Exhibition and Auction in Charlton Horethorne Village Hall. Details are included in the attached leaflet and prospective exhibitors/sellers are asked to register their interest by the end of August. They will then receive a detailed Registration Form on which they can expand on what they plan to exhibit/sell etc.
Anyone wishing to learn more about the Maison Fortune Appeal or the forthcoming Art and Craft event should call 01963 220249.