Wincanton's focused community website, providing news and information including a full calendar
News » Churches/Religion » Catholic Church
Builders at St. Luke's
Thursday 1 January 1970, 01:00
By Fr Louis Beasley-Suffolk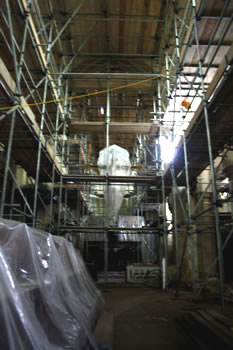 Things are happening at St Luke's in South Street.
During the last two weeks four or five lorry loads of scaffolding have been erected in the Church and it is now a cavern full of metal and wood. The reason? The Decorators are moving in. The Stone Masons are moving in. The Glaziers are moving in and the Restorers of wood and metal are moving in because St Luke's is undergoing a 50 year spring clean.
All this work should be completed by Holy Week and by then the Church will have been painted, the stonework will have been cleaned, the wooden altars and the large Rood Cross will all have been restored, the Narthex (entrance) will have been reappointed and the baptismal font will have been repositioned.
The shock to visitors and parishioners should be one of awe and wonder. To be able to celebrate the glory of God in beautiful surroundings, both warm and clean, somehow is fitting for our centrally heated culture, one hopes that the spiritual wisdom to accompany the material will be as beneficially uplifting. When the beautifying is complete, the Church will be open everyday until 6 o'clock in the evening and an open invitation is extended to all those who wish to come in and just sit and reflect in peace and tranquility on the gifts that God has given us and how his Church is a sign that those gifts should be shared.
Louis