Wincanton's focused community website, providing news and information including a full calendar
News » Charity
A Jolly Beaujolais for Wincanton's Hospital
Saturday 16 November 2013, 20:20
By John Baxter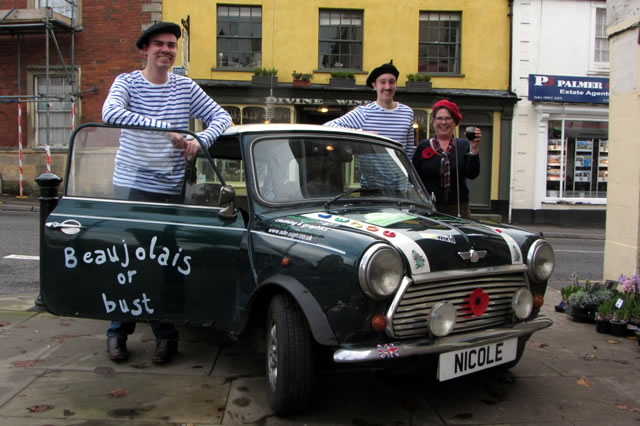 Gazette journalist Stephen Davy-Osborne, with co-driver Bryan Scant, are about to set off on a daring 1,700 mile round trip to Macon in France. They will be travelling in Stephen's ancient Mini (which he has christened Nicole) and what makes it exciting is that they will be taking part in the annual run to collect bottles of this year's harvest of Beaujolais Nouveau.
It all started in 1970 when restaurant owner Joseph Berkmann and celebrity MP and wine correspondent Clement Freud decided to race each other to Macon and see who could bring back the first bottles of that year's vintage to London. Since then slightly loony wine cognoscenti have been keeping up the tradition, not only to have fun and buy wine, but also to raise money for charities.
While the rest of the team of intrepid ancient Mini owners will be raising money for another charity, Stephen and Bryan have decided on Wincanton Hospital.
"The people of Wincanton have made me so welcome since I have come here as a reporter, and I have so enjoyed meeting people in Divine Wines that I have decided there is no better cause I could help than Wincanton Hospital", he told me.
Setting off on Friday 22nd of November, they will meet up with the Mini team in Brixham and take the ferry to Roscoff before driving all the way down to spend Saturday night in Macon, which is in the heart of the Beaujolais region of southern France.
They will then bring back a precious bottle of Beaujolais 2013 to Divine Wines on the 25th, where it will be on display as a raffle prize at £1 per strip of tickets. The winner will be announced at 11.00am on Saturday 14th December by Jenny, an occasion not to be missed.
In preparation for their run Stephen and Bryan are seen above with Jenny outside Divine Wines, dressed suitably in faux French garb.