Wincanton's focused community website, providing news and information including a full calendar
Headlines » Sport » Wincanton Swimming Club
Going Beyond a Good Big Splash
Monday 25 October 2010, 13:11
By John Baxter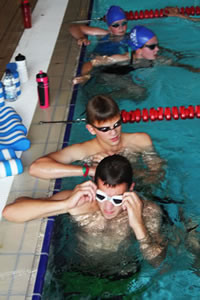 As someone who enjoys a leisurely non-competitive swim after a session in the gym or who loves to bring my grand-daughter to have fun and a good splash about, meeting members of Wincanton Swimming Club was a completely new experience.
The club is divided into Juniors (8-18 years) and Masters (18 years plus - no upper age limit). The Swimming Club works in parallel with the Sports Centre and it is not the case that you join the swimming club to learn how to swim. The Sports Centre runs some excellent courses to teach people of all ages, from small children to very senior citizens how to develop basic swimming skills. For this reason it is expected that anyone who wishes to join the Wincanton Swimming Club will have reached Green Hat level on the Sports Centre Learn to Swim programme, and they are tested on this before they can join.
My guide was Adele Parham who with Louise Chant was coaching a group of Juniors.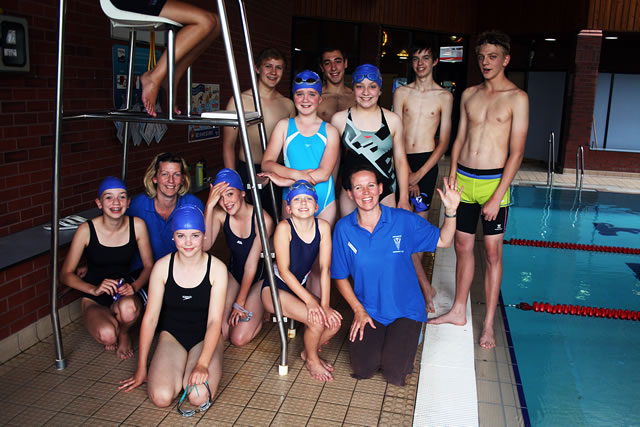 As you can see from this photograph the Juniors cover a pretty wide range of boys and girls from around 8 to 18. Adele explained to me that the club has around 80 Juniors and they meet on Thursdays 6-8pm and Sundays 5-6pm.

After that it is all about swimming lengths, working on stroke technique and correcting bad habits and refining swimming skills on all four swimming strokes. This means swimming lengths for an hour in a group of swimmers of similar abilities. Swimmers train in preparation for taking part in gala competitions with other clubs.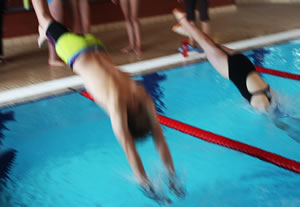 Adele told me that many of the Juniors had been in the club for years and she had watched them steadily improving until they were able to take part in competitions against other clubs at a higher level.
Clearly this lively and enthusiastic group had, like Adele - herself a high achieving and experienced Masters Swimmer - become thoroughly hooked on the sport. Adele pointed out that many of the group had been coming for years and they had really got to know each other. She said the club prides itself on its friendly atmosphere and this is what many find encouraging. For a minority who reach a particularly high level and wish to compete against others at the same level, then some members also go on to join Yeovil Swimming Club where apparently some really relentlessly serious swimming gets done.
So if you would like to do more to improve your swimming (whatever your age) and think you could get quite competitive about it, then go to the Club's website, find out more and if you think it could be for you - come along.