Wincanton's focused community website, providing news and information including a full calendar
News » Sport » Wincanton Tennis Club
Game Set & Match Summer Camps at Wincanton Tennis Club
Thursday 3 July 2014, 17:56
By Jon Rolnik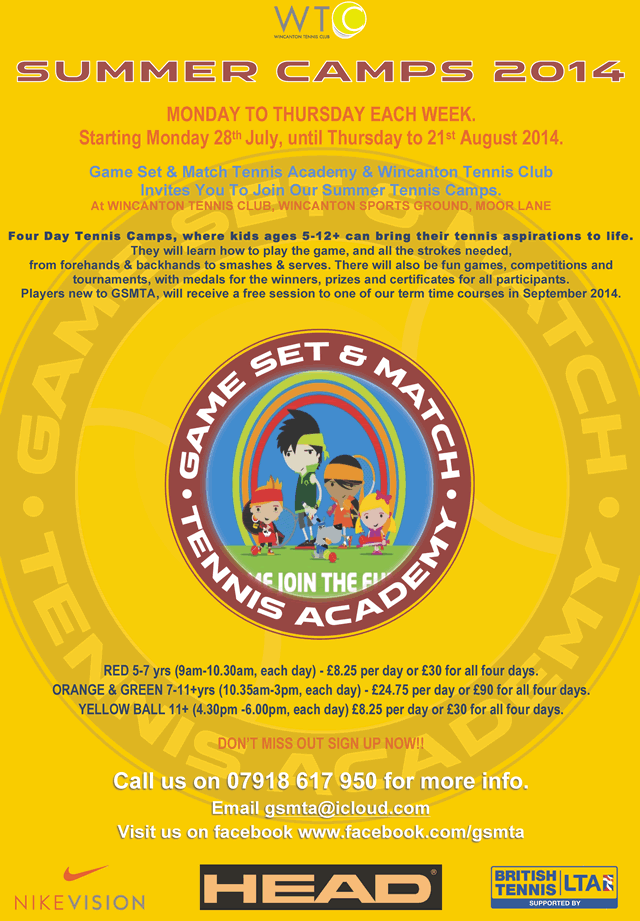 Game Set & Match Tennis Academy & Wincanton Tennis Club invites you to join our summer Tennis Camps, Monday to Thursday each week through the summer holidays (Monday 28th July to Thursday 21 August 2014).
Summer Camps are four-day tennis camps, where kids ages 5 – 12+ can bring their tennis aspirations to life. They will learn how to play the game, and all the strokes needed, from forehands and backhands to smashes and serves. There will also be fun games, competitions and tournaments, with medals for the winners, prizes and certificates for all participants.
Players new to GSMTA, will receive a free session to one of our term time courses in September 2014.
RED 5 – 7 years (9.00am – 10.30am, each day) - £8.25 per day or £30 for all four days.
ORANGE & GREEN 7 – 11+ years (10.35am – 3.00pm, each day) - £24.75 per day or £90 for all four days.
YELLOW BALL 11+ (4.30pm – 6.00pm, each day) £8.25 per day or £30 for all four days.
Don't miss out, sign up now! GSMTA Summer Camps take place at Wincanton Tennis Club, Wincanton Sports Ground, Moor Lane.
Call us on 07918 617 950 for more info. Email or visit us on Facebook.