Wincanton's focused community website, providing news and information including a full calendar
Headlines » Sport » Wincanton Sports Ground
Wincanton Rounders League Comes to a Tense Close!
Friday 8 August 2014, 19:09
By Jade Hansford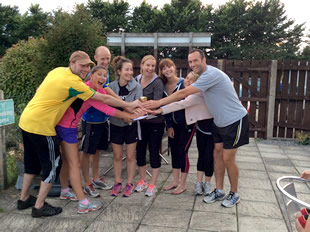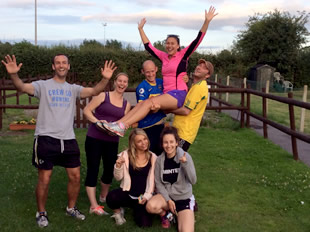 Unbeaten league champions, KA Knights
Wednesday 16th July saw the final week of Wincanton's first ever social rounders league, and what a league it was! The previous weeks saw five teams battling it out to be crowned champions of the 2014 season, as well as a round robin tournament on the final night.
The teams this year were made up of family, friends and work colleague from all over the local area, with both young and older people taking part, with each team playing each other twice.
Even on the final league night, the positions still hadn't been decided! The deciding game at the top of the table saw Gillingham Mixed Bunch take on the KA Knights, both teams made up of teachers from local schools. The first meeting between the 2 sides saw KA Knights edge past their opponents, beating them 13-8.
The second meeting was even closer, and there was only 2 rounders in it, with the KA Knights winning by 13 rounders to 11. Gillingham Mixed Bunch also drew with Birds with Balls on the final evening, in an impressive match that finished 9-9. Other results on the final evening saw KA Knights take all 5 points against The Overs, and the Birds with Balls beating The Overs.
The two KA Knights wins on the night made sure they finished the season unbeaten, securing first place with a maximum score of 40. Runners up were Gillingham Mixed Bunch with 32 points. Third place went to the Birds with Balls, closely followed by Dextra Dragons and The Overs.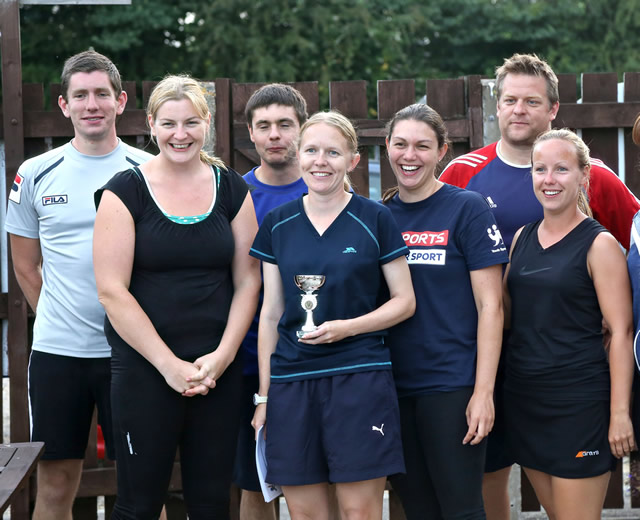 Wincanton Rounders League Runners Up, Gillingham Mixed Bunch, receive their trophy! Photo by Harry Scott
The final evening saw all the teams take part in a round robin tournament, all playing each other once. KA Knights, continued their unbeaten streak by winning all of their matches while the Birds with Balls followed closely behind losing just one match on the evening! The tournament was then followed by a BBQ and presentation, which saw all players being presented with certificates, while KA Knights and Gillingham Mixed Bunch were handed their league winners and runners up trophies respectively.
The Wincanton league was designed to be a fun social evening and allow people to take part in a sport that they may not have played for a while. While it was competitive at times, everyone involved enjoyed themselves and improved their skills week by week!
Louise Stephens, captain of the Birds with Balls said "It was my first time playing rounders in a league, and as captain, and I thoroughly enjoyed it! It was not just about the game, it was about meeting people and having a laugh and a bit of banter. We will definitely be putting in a team next year! We need more things like this run for the community to get involved!"
Harry Scott of Dextra Dragons, who entered a team with his work colleagues said, "It was great to have a laugh with colleagues outside of work; it was competitive and fun at the same time. There's nothing more satisfying in life than smacking a rounders ball in the evening sun!"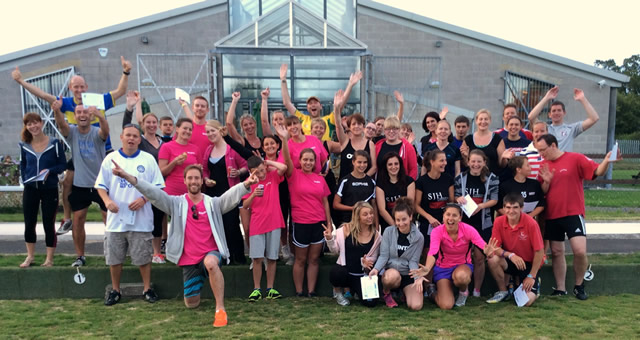 Wincanton Rounders League teams celebrate their first season!
Wincanton Sports Ground would like to say a huge thank you and congratulations to everyone that took part in its first ever rounders league. Due to the success this year, we are hopeful that a league will run again next year...and there is always room for more teams, so watch this space!
We look forward to hopefully seeing returning and new faces next summer! In the meantime, a mixed rounders tournament is taking place at North Dorset Rugby Club on August 17th. For more information please contact Jade on or call 01963 31815.