Wincanton's focused community website for news, views and information including a full calendar
Headlines » Sport » Racecourse/Equestrian
Wincanton Racecourse Gets Ready To Rock 'n' Roll
Monday 22 April 2013, 11:06
By Hannah Walker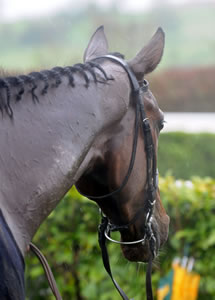 As the 2012 - 2013 jump season approaches the final furlong, Wincanton Racecourse's penultimate May meetings - evening racing with live music (9th May) and Ladies Day (14th May) - are fitting seasonal and social finales.
Taking place on Tuesday, 9 May is evening racing with live music. Wincanton Racecourse will combine the vibrant mix of swing dresses and chic 1950s fashions with Ultimate Grease performing after racing to make you rock n roll and inject the feel-good factor back into spring.
The 1950s was about fun, happiness and excitement - three words which also sum up horseracing - and to encourage race-goers to indulge in a good dose of nostalgia, rock n roll dancers will be on hand to demonstrate the good old-fashioned jive style routines.
There's also a Best Dressed prize for the most authentic 1950s Rockabilly or Pink Lady, a complimentary Wonder Booth to capture all the fun plus delicious food and cocktails are all on the agenda alongside a six-race card.
Gates open at 4.00pm with the first race off at 5:45pm. Tickets start from £12.00 on 0844 579 3014 or visit wincantonracecourse.co.uk.
Tuesday, 14 May is all about the girls. Access to Wincanton Racecourse on the Ladies Day starts from £12.00 and is Somerset's biggest social gathering which showcases Wincanton ladies' unique style and fashion within the Premier and Grandstand Enclosures.
In association with top milliner, Cozmo Jenks, Wincanton's Style contest will reward a number of lucky ladies with a host of prizes for being selected as the most stylish Somerset race-goers. Cozmo, together with Channel 4 Racing presenter Alice Plunkett and top regional hair and beauty salon will provide visual demonstrations of stunning hats and appropriate hair styles to Kingwell Restaurant diners.
Kingwell Restaurant guests will also be treated to complimentary gelish manicures throughout the day, a delicious three-course set meal, race card and premier entry for £55.00 per person.
Fantastic racing is also on offer with a competitive six-jump-race card. To book call 0844 579 3014 or visit wincantonracecourse.co.uk.