Wincanton's focused community website, providing news and information including a full calendar
News » Sport » Racecourse/Equestrian
Wincanton Racecourse is ready for its biggest day of the year
Sunday 22 December 2019, 00:11
By Lucy Johnson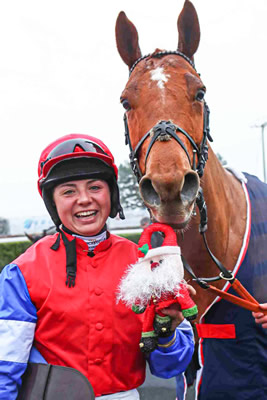 Wincanton Racecourse is readying itself for the busiest raceday of its year; its Boxing Day meeting, when thousands will descend on the Somerset track to enjoy a day of relaxation, horses, friendships and camaraderie.
It will be business as usual over Christmas for trainers, staff, jockeys and horses with dozens of race meetings staged up and down the country, drawing crowds in their thousands who will enjoy one of the most hospitable pastimes of all.
"On Christmas day everything gets condensed and we'll finish all the horses at about 8.30am and the ones that are racing over the next few days will be ridden. Half the staff will come back for evening stables on Christmas Day with the other half having worked on Christmas Eve so that everyone gets a few hours off, but it's a very important time of year, and the focus is very much on the horses and making sure they are all the priority."

- Harry Derham, champion trainer Paul Nicholls' assistant
For Jeremy Scott, who trains on Exmoor, it's the family who take the burden of the workload with all the staff given Christmas afternoon off.
"Everyone comes in on Christmas morning and we'll ride the horses that are due to race and try and get finished early. On Boxing Day it's usually a very early start to get to the races. It can be tough on the staff over the festive period, especially the younger ones whose family might live too far away for them to see them, so we try and work it so that they can get home."

- Jeremy Scott, Exmoor trainer
With Boxing Day racing part of the fabric of English life, the race meetings are a terrific and memorable day out; family occasions where people mingle and socialise with old friends in the depths of winter.
"It's such a great time of year, with so much good racing, and all the very best horses in action. Although a busy time for everyone who works in racing, it's what we do and love and I don't think any of us would have it any other way."

- Harry Derham
"Racing on Boxing Day is one of the favourites with all the team at Wincanton. The atmosphere is fantastic, and everyone is full of good cheer. Boxing Day racing is a great opportunity to have a really great day out."

- Huw Williams, General Manager, Wincanton Racecourse
The first race is off at 12:20pm, gates open at 10:30am. Under-18s race free if accompanied by an adult. For further information visit www.wincantonracecourse.co.uk.