Wincanton's focused community website, providing news and information including a full calendar
News » Sport » Wincanton Sports Ground
Wincanton Primary School Pupils Give Short Mat Bowls a Go!
Friday 11 July 2014, 13:58
By Jade Hansford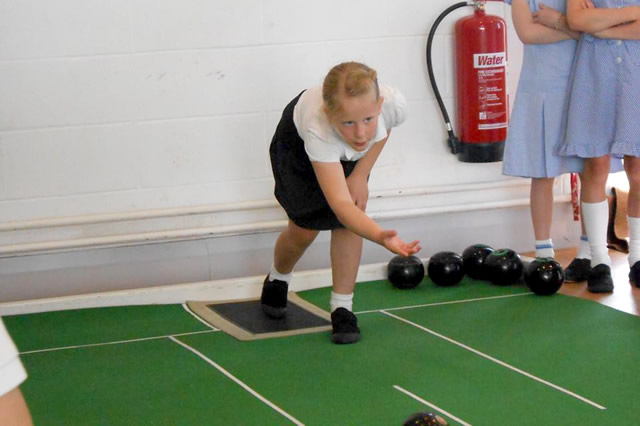 At Wincanton Sports Ground we aim to provide a variety of sports for a variety of people. Most recently we invited pupils from Wincanton Primary School to come down and have an opportunity to try Short Mat Bowls. 24 Year 4 children and three members of staff made the most of the sunny weather and made their way down to the Sports Ground using our new 'Peter's Path'. The path now allows safe walking access from the town to the Sports Ground, and class teacher and deputy head of Wincanton Primary School, Sarah Martin, commented that now the path has been built, she feels a lot more comfortable bringing children to the Sports Ground.
Having two mats set up in our hall, which were kindly lent to us by Templecombe Short Mat Bowls Club, the pupils were split into groups which were led by Mr Deryck Lemon and Mr and Mrs Berry. All the coaches have a strong background in Short Mat Bowls, with Mr and Mrs Berry having played for England, and they all kindly volunteered their time to help out with the sessions. While half of the group were being taught the tactics and techniques of Short Mat Bowls, the others were given the opportunity to try the Sports Ground indoor kurling equipment.
Both the short mat bowls and indoor kurling not only required the children to play, but also to think very carefully and tactically about their next move! Both activities were a success with the pupils and they all thoroughly enjoyed trying activities they hadn't had the opportunity to play before! The pupils were also a pleasure to teach, and are a credit to Wincanton Primary School – we would not hesitate to have them back to try more activities in the near future!
Finally, Wincanton Sports Ground would like to say a huge thank you to the staff and pupils from Wincanton Primary School, and also to Mr Lemon and Mr and Mrs Berry for volunteering their time to come and coach all the pupils.
For more details on activities that happen Wincanton Sports Ground, please do not hesitate to get in contact by calling 01963 31815 or email Jade at .