Wincanton's focused community website, providing news and information including a full calendar
Headlines » Sport » The Honbu
Wincanton Karate Clubs Longest Serving Student Promoted
Friday 20 June 2014, 18:57
By Paul Hacker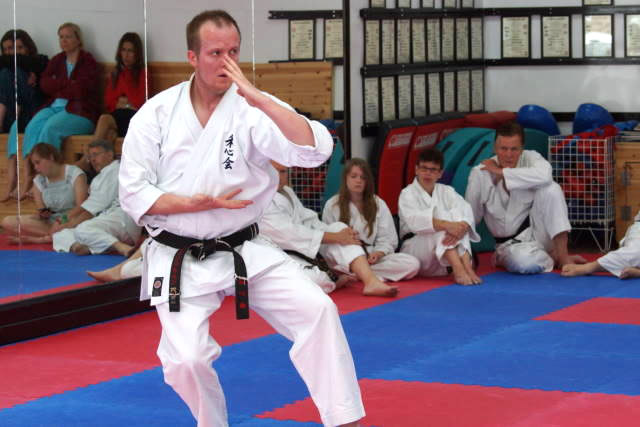 Local Karate student Jason Brown, who attends classes at The Honbu in Wincanton, has successfully passed his 4th Dan Grading.
Jason, who has been training with Wincanton Karate Club for almost 18 years, was put through his paces by the creator of Washinkai Karate, Sensei Chris Thompson (8th Dan).
Local instructor Paul Hacker (5th Dan) said:
"It has been a real privilege and honour to watch Jason grow up from a 12 year old boy to a 30 year old man. His commitment and dedication has now been rewarded by achieving his 4th Dan."
Jason's performance during the grading was excellent and he had this to say in the days before his grading:
"Over the years I have made some truly outstanding friendships. The people of Washinkai karate and in particular my club at The Honbu are exceptional and unique karate-ka. We are all there for each other and as a group we are all strong together."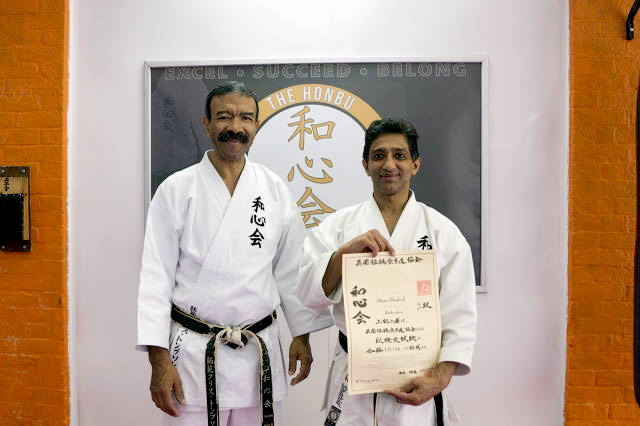 The grading was part of a course run at The Honbu and was attended by students from different clubs. It was a particularly good day for visiting student Shaz Shahid when he was presented with his 6th Dan by Sensei Thompson. Shaz is well known for his prowess in fighting, having been Champion of Champions in Hong Kong during the 1980's.
Paul continues:
"The Honbu is going from strength to strength; we now have over 30 black belts training and four of them are scheduled to follow Jason and reach 4th Dan in the next 12 months. With over 100 students training each week The Honbu looks forward to many of them gaining black belts in the coming years."
For more information on The Honbu please see www.thehonbu.com or call 01963 34667.