Wincanton's focused community website, providing news and information including a full calendar
News » Community
Wincanton Growing Together at Carrington House
Thursday 20 June 2019, 19:09
By Debbie Hicks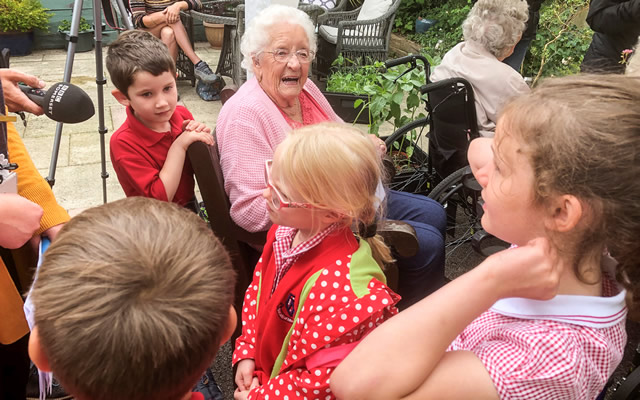 Earlier this year, you may have read a Wincanton Window article from Carrington House about the planned revamp of their gardens, ahead of opening them up to the public in aid of St Margaret's Hospice on 23rd June from 2pm till 5pm.
Their request for community input presented an unmissable opportunity for Stokehill Director Debbie Hicks to coordinate an intergenerational project across the town, where pupils from our local schools would collaborate with Carrington House residents. If you watched the television series "Old People's Home for 4 Year Olds" you will already know how beneficial this can be for everyone involved. For pupils, one obvious outcome would be an increased understanding of sowing, growing and where their food comes from.
The project would provide a great context to enrich other aspects of learning, especially in science but also many other areas of the curriculum. For both young and older participants in this kind of project, there are well documented benefits for wellbeing.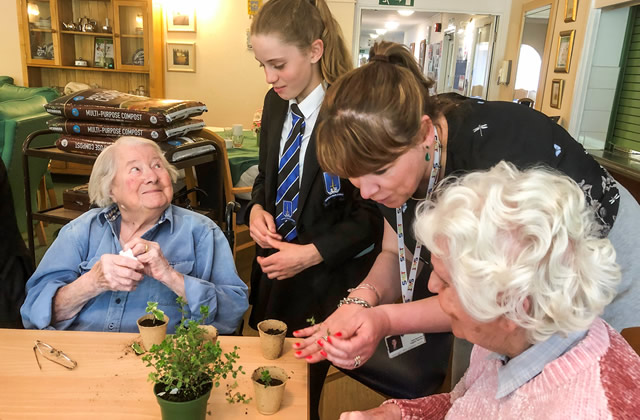 Through the commitment and enthusiasm of all parties, the project has been running since March, with all three Wincanton schools and Carrington House residents actively involved.
Via the charity LEAF Education, for which Debbie is the regional consultant, resources and guidance have been provided to coordinate the schools element of the project. Primary teachers have shared ideas for sowing and growing activities and letters have been exchanged between Carrington House residents and pupils. At King Arthur's School, seeds of wildflowers and sunflowers were sown and plants used as a stimulus to develop literacy skills.
Meanwhile, during Green Space from Stokehill workshops at Carrington House, residents have explored what a garden means to them ("somewhere to sit", "to grow food", "hard work!"). We've spent time sharing memories of gardens past whilst enjoying the brightly coloured flowers of primroses, smelling scented hyacinths, crushing mint leaves in our fingers and stroking the furry leaves of Lamb's Ears. Residents have sowed seeds and made labels for the seedlings.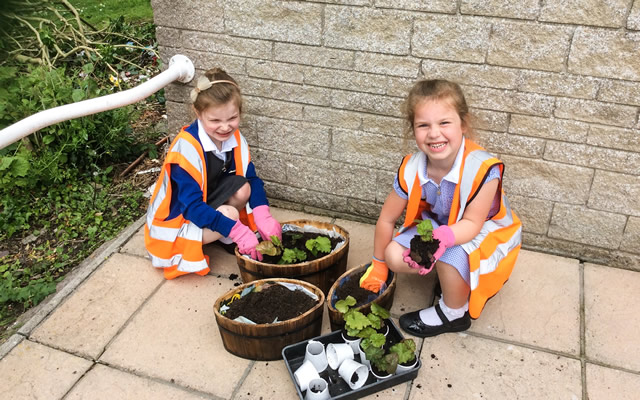 The Green Space from Stokehill workshops at Carrington House are part of a Community Learning Partnership between Stokehill and Somerset Skills and Learning. This makes it possible to offer them free of charge to people who may not routinely choose to join courses or participate in activities. Many Green Space workshops, walks and courses take place on the farm at Stokehill, with a blend of gentle exercise, some new learning and a chance to spend time with other people. It is sometimes just not possible, however, for people to get out and move around on the farm. In these cases, a bit of Green Space can often be taken to them!
Now that summer has arrived, groups of pupils from all three schools have been visiting Carrington House to join with residents and staff in planting out seedlings and sharing stories. As they work together, all sorts of topics for discussion emerge, which are sometimes around sowing and growing but often about wider shared interests, like football.
During our most recent workshop, the now familiar buzz of these sessions was further heightened by the excitement of being joined by BBC Radio Somerset. A journalist had made contact after reading about the project on the @FarmStokehill Twitter feed and he was keen to see us in action. You can watch the resulting video here.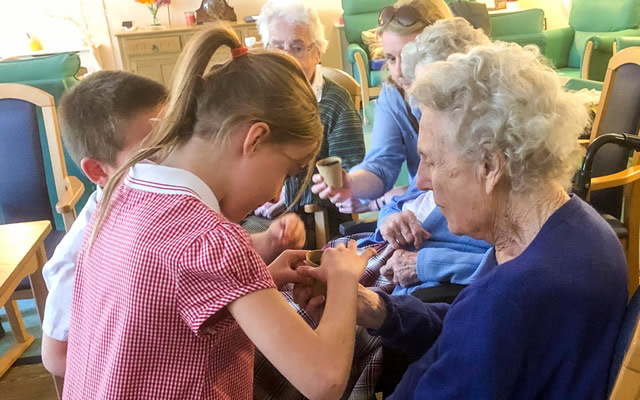 So, it's now mid-June and the gardens are blooming, with a colourful contribution towards the overall display coming from Wincanton Growing Together. To help promote the event, posters have been drawn by Our Lady's pupils and they are popping up all around the town.
On 23rd June, a display showing the story of the Wincanton Growing Together project will be on show in the Day Room, where you will also be able to listen to music and buy refreshments. Entry is £3, which, as you will remember from the opening paragraph is going to a very worthwhile cause - St Margaret's Hospice.
Hope to see you there!