Wincanton's focused community website, providing news and information including a full calendar
News » Councils » Town Council
Wincanton car parking survey closes on Friday 18th
Wednesday 16 October 2019, 21:59
By Dave Smith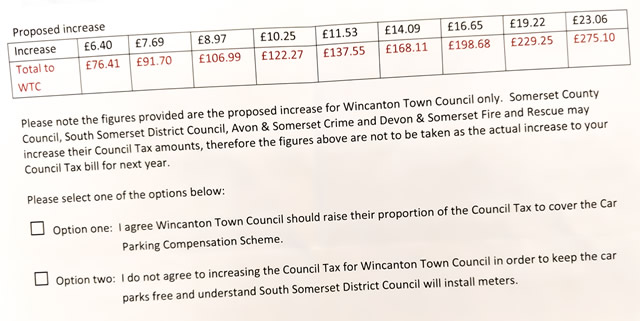 Wincanton Town Council (WTC) has delivered a survey on car parking charges to every eligible residence in the town. Several councillors hand-delivered some themselves. If you haven't received one, give the Community Office a call to let them know. The deadline for returning the survey, by hand, mail or email, is Friday 18th October.
Following the communications kerfuffle between South Somerset District Council (SSDC) and Wincanton Town Council (WTC) on car parking charges, dialogue has finally resumed. However, despite the various objections, SSDC's adherence to its flat "pay at point of use" policy for public car parks leaves Wincanton Town Council back where it started: pay compensation for lost revenue, or expect parking meters to be installed at all three of Wincanton's car parks.
For the last seven years during which WTC has participated in the compensation scheme to keep Wincanton's car parks free at the point of use, it has made budgetary constrictions in order to avoid the need to significantly increase its portion of Council Tax. To relieve further financial pressure this will soon need to change, and so we are faced with a decision.
The options
As residents of Wincanton, should we agree to pay more Council Tax to cover the cost of parking in the town for everyone, or should we let SSDC install parking meters in our car parks such that those who use them will cover the cost?
As the projected 9.15% increase (£11.53/year for Band D properties) in the WTC portion of the Council Tax will be significant in comparison to previous increases, the councillors have decided to ask the town's residents for their views on how they'd prefer WTC deal with the situation.
The survey
The survey delivered to each residence in the town presents all the details of the situation, including previous and projected tax rates for both WTC and SSDC portions of the Council Tax. Note that it is only a potential increase to the WTC portion of Council Tax that this survey is concerned with.
Responses can also be sent by email to , but a full name and address should be included so the Town Clerk can be sure to which residence the response applies, to avoid duplicate votes.
As Council Tax is paid on a per household basis, only one survey has been delivered to each, and only one response is solicited. Where cohabitants' views conflict, a compromise will need to be made between them before responding.
The deadline for survey responses is this Friday, 18th October.
---
Related articles