Wincanton's focused community website, providing news and information including a full calendar
News » Nature » C.A.T.C.H.
Vote for C.A.T.C.H. to get funding from Aviva
Wednesday 1 November 2017, 00:14
By Dave Smith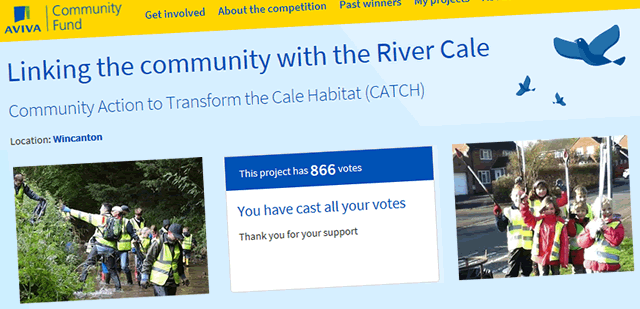 C.A.T.C.H. (the river people) has been nominated as a potential recipient of funding from the Aviva Community Fund, which donates a lot of money to many community orientated charities every year. The amount of money they could win depends entirely on the number of votes they receive.
Voting is extremely easy, and you don't need to be an Aviva customer, buy or committ to anything. You do need to register an account with an email address and password in order to vote, so you might end up on a mailing list, but you can easily unsubscribe from that.
Once you've registered your account you'll have 10 votes to allocate to any projects you see that you'd like to support. Spread them around if you spot some worthy causes, or give them all to C.A.T.C.H.!
Visit the C.A.T.C.H. project page on the Aviva website to read more about what the group would like to do with the money, but here's the short version.
Tools and training to allow them to continue doing physical work to improve the biodiversity of the river habitat and its accessiblity to the public.
A schools programme to encourage children to understand and care for the river, which includes previously successful activities like Mayfly in the Classroom.
A town trail which will follow the river and include information boards about its history and wildlife.
Voting closes on 21st November 2017, so there's plenty of time, but don't forget!