Wincanton's focused community website, providing news and information including a full calendar
Headlines » Sport » The Honbu
The Honbu Celebrates its 5th Anniversary
Wednesday 2 October 2013, 12:04
By Paul Hacker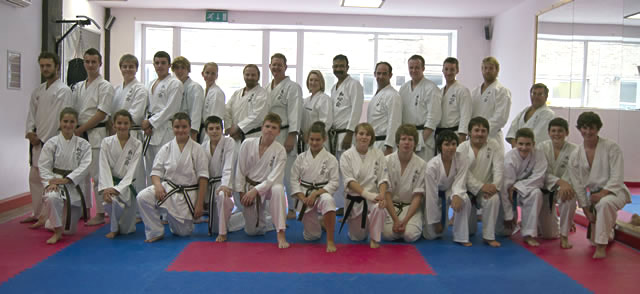 Students attending the 5th Anniversary of The Honbu
The Honbu, home of Wincanton Karate Club, celebrated its fifth anniversary with a special weekend course held over the 14th and 15th of September.
Students were treated to a weekend of training with the founder and creator of Washinkai Karate, Sensei Chris Thompson (8th Dan) who has supported The Honbu since it opened in 2008. It is the only full-time dojo in the world dedicated to his style.
Senior Instructor for The Honbu, Paul Hacker (5th Dan) said,
"The last five years have whizzed by, and during one of the worst recessions in living memory, The Honbu has gone from strength to strength and has never been in a better position. Now is a great time to start learning Karate, whether for fitness, self-protection or just plain curiosity, The Honbu can accommodate everyone."

"The Club's future is secure; we are especially proud that we are totally self-sufficient and do not need or have to rely on any funding."
The Honbu has had its low points as well as high points after it suffered an arson attack a year after opening. Paul continues,
"The arson attack was a real low; however what it did do was make us more determined to succeed and like any club or organisation it's the strength and determination of the students that have made The Honbu so successful."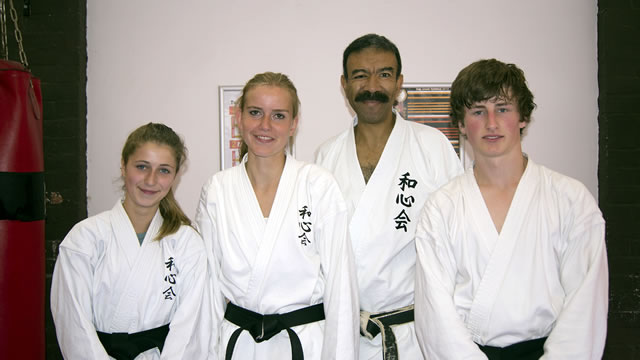 Successful Black Belts (Left to Right): Julia Wrzesinska (1st Dan), Emma Rogers (2nd Dan),
Sensei Chris Thompson (8th Dan), Oscar Wignall (1st Dan)
During the weekend three students were given the opportunity to take black belt gradings. Emma Rogers passed 2nd Dan, Julia Wrzesinska and Oscar Wignall successfully passed their first black belt gradings.
Chris Thompson finished the course by explaining to those present that he felt The Honbu was without doubt one of the best dojos he had ever visited, and that the standard of Karate was exceptionally high. The Honbu has now been selected as the only venue for his Autumn and Winter Courses and as of 2014 one of only two venues nationally where students will be able to take black belt gradings.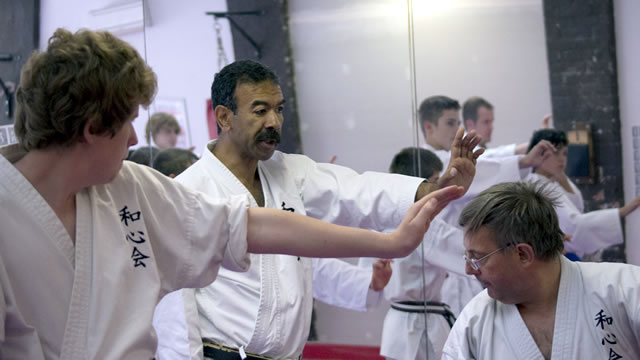 Sensei Chris Thompson (8th Dan) teaching at The Honbu during its 5th Anniversary celebrations
Paul said,
"It's great news for The Honbu, a testament to the dedication and hard work of our instructors and students. We look forward to opening more Honbus in the South of England over the next five years as well as starting our Honbu Security division."
For more information on The Honbu please see the website http://www.thehonbu.com/ or call 01963 34667.