Wincanton's focused community website, providing news and information including a full calendar
Headlines » Neighbourhood
Open Garden at Pen Mill Farm
Tuesday 6 September 2016, 21:35
By Fanny Charles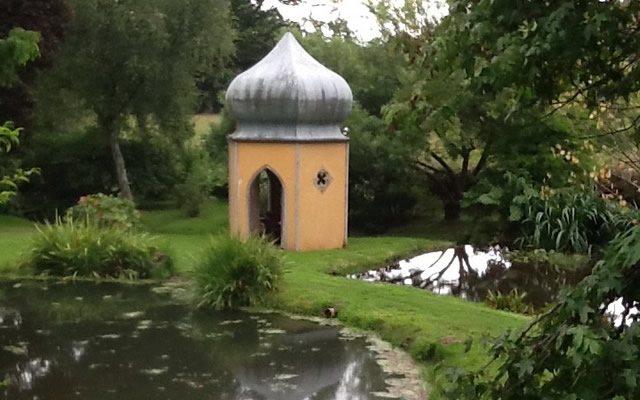 Lovers of unusual trees, shrubs and plants should make a date to visit a beautiful garden at Penselwood which is open for National Gardens Scheme on Saturday 10th and Sunday 11th September.
Pen Mill Farm has one of those hidden, secret gardens that you sometimes drive by and look into, wondering what goes on just beyond the tantalising glimpses of trees and water.
At Sarah Fitzgerald's two and a half acre garden, on the borders of Wiltshire, Somerset and Dorset, there is also a romantic and exotic gazebo, a Turkish style shell-house which overlooks the leat that runs down to the lake.
Pen Mill Farm garden, which is open for the National Gardens Scheme, has many unusual trees and shrubs, a bog garden and late summer borders with herbaceous colour. The opening times are 2.00pm to 500pm on Saturday and noon to 5.00pm on Sunday.
There will be a plant stall, delicious ploughman's lunches and teas with home-made cakes, contributed by some of Pen's many keen bakers. The cakes alone are worth the journey, says Sarah, who is a garden historian, and married to Peter Fitzgerald who has recently published a fascinating biography of the remarkable early 18th century architect Nathaniel Ireson.
The National Gardens Scheme raises funds for various medical charities, including Macmillan Cancer Support, Marie Curie, Hospice UK, Parkinsons UK and the Carers Trust, and this year's guest charity, Horatio's Garden.
The history of the NGS is linked with the development of nursing in the UK, since the late 1850s. The National Gardens Scheme Charitable Trust was established as an independent charity in 1980. The NGS scheme has donated more than £45 million to nominated beneficiaries, of which nearly £23 million was given in the last ten years.
Information about the gardens is contained in the annual Gardens to Visit guide, still popularly known as the Yellow Book (and county supplements). Full details of the scheme are on the website www.ngs.org.uk.