Wincanton's focused community website, providing news and information including a full calendar
Headlines » Sport » Wincanton Sports Ground
New activities at Wincanton Sports Ground
Friday 24 January 2014, 15:37
By Jade Hansford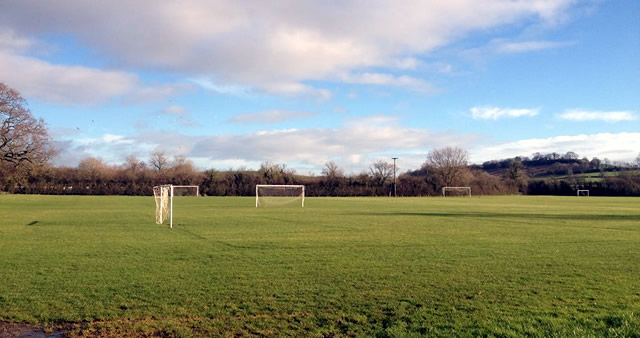 Are you looking to get fit this year? If so, Wincanton Sports Ground could be the place for you! Here at the Sports Ground we have around 50 acres of land, which would be perfect for running on.
We have also recently purchased 3,2,1 km signs, meaning you can track your run each time, either on your own, or with a group of people. If you don't like to run alone and are more motivated to do so when you are with a group, we are also looking to start a running club here at the Sports Ground.
Rush Hockey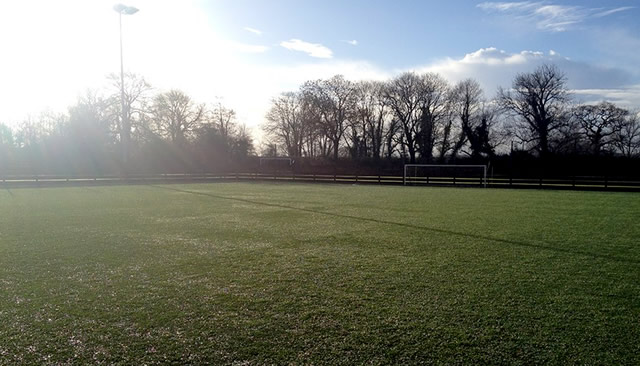 As well as running we hope to begin a Rush Hockey session on our astro-pitch on a Tuesday morning, starting on Tuesday 4th Feb from 10.30am – 11.30am. Rush Hockey is an adapted version of hockey and is played on small pitches with larger, lighter balls, fewer rules and smaller goals, allowing for a free-flowing and exciting game. Both males and females of all abilities are welcome. Rush Hockey is a great way to stay physically active while meeting new people.
Senior Football & Zumba Gold
We like to cater for all ages here at the Sports Ground, so if you're 50+ and interested in staying active why not join in with our Senior Football sessions or join our Zumba Gold exercise class?
Zumba Gold is an adapted version of the dance fitness class Zumba. It is modified to include moves that are less intense for active older people and beginners. Classes are held every Tuesday from 10.00am 11.00am.
Sport 50
However if football or Zumba don't interest you, we have an amazing opportunity for you. South Somerset District Council and Wincanton Sports Ground would like to invite you to take part in Sport 50. Sport 50 provides four FREE activities and sport sessions including boccia, ball skills, kurling, and walking rounders to people aged 50+. These sessions will run from 10.00am – 12.00pm on Thursday 6th February, Thursday 13th February, Tuesday 18th February and Thursday 27th February.
For more information on Sport 50 please contact Charlie Coward on 01935 462347 or .
Floodlit Tennis Courts, Astro-Turf, Bowls Green & Petanque
Here at the Sports Ground we have four all-weather floodlit tennis courts, which are available for casual hire all year around. The court is £6.00 for an hour; however if floodlights are needed courts are priced at £10.00 an hour.
We also have a 5- or 7-aside astro-turf pitch, outdoors bowls green and a petanque court.
Finally, we have plans to start regular rounders sessions and tournaments here throughout the Spring/Summer months.
Facilities to Hire for Private Functions Hire
As well as sporting activities, Wincanton Sports Ground is also available to hire for private functions. We have a large social area, bar, kitchen, changing rooms and disabled access.
If you would like to hire the social area please contact Loo on 01963 31815 or 07756 983598.
Better Access to the Sports Ground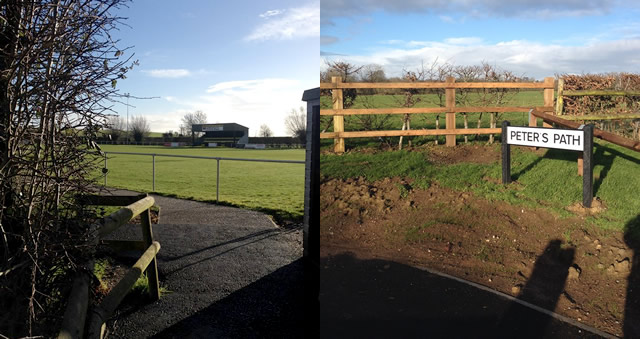 Our new footpath, 'Peters Path', now makes walking access to the Sports Ground a lot easier and safer. After many years in the planning the new footpath from lower Wincanton to the Wincanton Sports Ground, it was opened by Dibby Rochford in December. Her late husband Peter was instrumental in establishing the footpath and it seemed only fitting that it was named after him.
The path will provide safe passage to the facilities for both young and old pedestrians and cyclists. Peter has left us a fabulous legacy that will undoubtedly save lives.
If you are interested in any of the activities mentioned, or you have an activity you would like to see here at Wincanton Sports Ground, please contact Jade on 01963 31815 or email .