Wincanton's focused community website, providing news and information including a full calendar
News » Neighbourhood
Massive Turnout for Wincanton in Crisis March VIDEO UPDATED
Thursday 11 December 2014, 00:12
By John Baxter
Saturday 6th December saw the biggest demonstration anyone could remember as a protest procession took over almost the whole of the High Street. Concerned locals stepped out to express their feelings about further housing development in Wincanton.
Starting out from the car park by the Memorial Hall and then going down the High Street and circling back up Church Street to the Town Hall, some two to three hundred concerned citizens marched behind the banner, WINCANTON IN CRISIS.
It certainly was a very impressive demonstration, taking place as it did at 10.00am on Saturday morning when the weather was bitterly cold.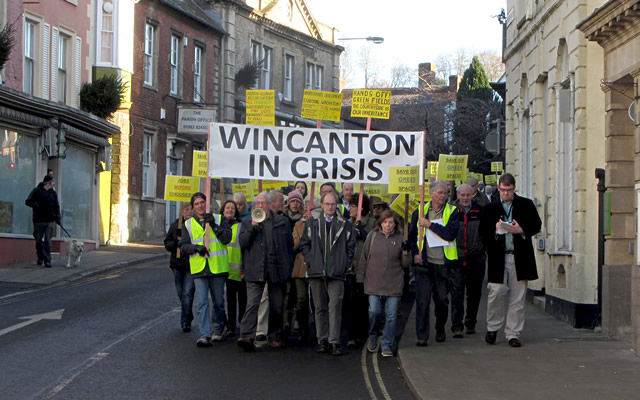 Those who took part included Richard D'Arcy, Stuart Mathews and other members of the Action Group, Tim Carroll, deputy leader of the District Council and the Liberal Democrat Parliamentary Candidate David Rendel. Other councillors were to be seen watching as the demonstration walked past.
Most of those present, however, were simply concerned citizens who feel that the consent already given for housing development of 700 homes has gone quite far enough to put a strain on the town and its infrastructure, with no new opportunities for employment.
They came feeling that the property developers now circling the town with their plans for an extra 237 homes in Dancing Lane, by Wincanton Hospital, and on the field of Windmill Hill, are likely to place the social cohesion, the schools, the health provision, the roads and the drains of Wincanton under enormous strain in ways which will reduce the quality of life for all of us and benefit no-one but themselves.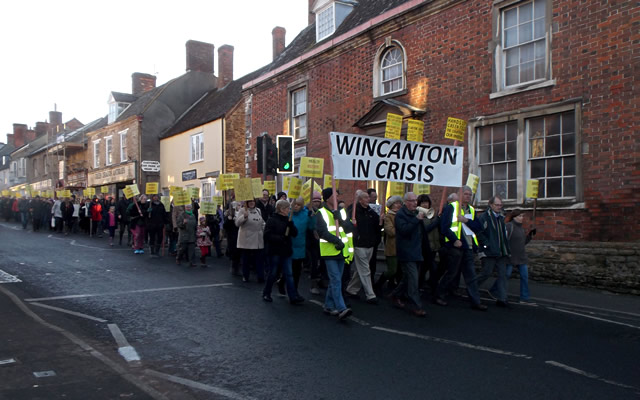 Occasions like this give everyone who takes part a feeling that we are not alone, but will we be able to do something? We need to halt these unwanted and damaging planning applications and instead take steps to provide what is badly needed to serve residents and build a community.
The article by Nigel Engert and John Smith points the way ahead; that is by the development of a Wincanton Local Neighbourhood Plan, a plan to be co-ordinated with South Somerset District Plan. This Neighbourhood Plan will need to be well supported by Wincantonians as the Mayor, Martin Russell, and the Town Council set up new weekly Saturday morning surgeries to find out what people really think and want.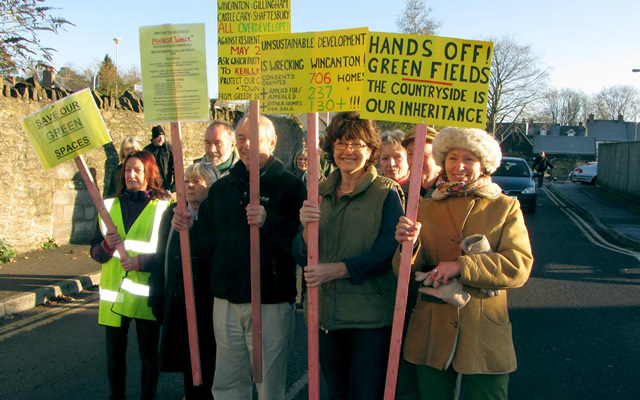 [UPDATE: 12-12-2014] Graham Hiscock of Camelot Video and Studio H Photography (www.studiohphotography.co.uk) as provided a few more fantastic photos of the march, as well as some great additional footage for the video at the top!