Wincanton's focused community website, providing news and information including a full calendar
Headlines » Sport » Wincanton Sports Centre
Longer Swimming Hours at Wincanton Sports Centre
Monday 1 April 2013, 13:57
By Mark Henley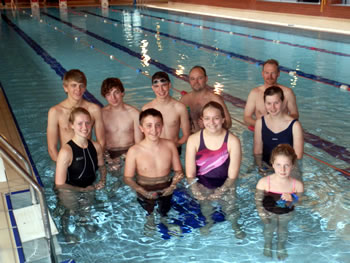 Wincanton Sports Centre has extended its swimming pool opening hours, which is now open 7.00 am - 10.00 pm Monday to Fridays 8.00 am - 6.00 pm Saturdays and 8.00 am - 10.00 pm Sundays. Our pool programme is now even more full of great swimming sessions, including, lanes, adults only, fun sessions, parent and toddlers, 60 + and masters.
Our swim school is also regarded as one of the best in the South West, offering lessons from pre-school all the way to adults.
We also offer a great range of memberships or simple pay and play options.
Christine Rose of Wincanton, who is a regular swimmer at the centre said:
"I'm delighted with the new opening hours; I first started using Wincanton Sports Centre when I moved to Wincanton eight years ago. I had been walking when I saw a banner advertising free swimming lessons for adults.

"I'd always promised myself I'd learn to swim one day and following the loss of my husband I thought it was about time I got on with it.

"When I started using Wincanton Sports Centre the government were offering free swimming to the over 60's, so after finishing my lessons I joined up for the free swimming and started swimming with the over 60's.

"When the government changed the free swimming stopped; however swimming at Wincanton Sports Centre had become such a part of my life that I, like a lot of the 60+ swimmers, joined up as a member. I now swim roughly five times a week and take part in various exercise classes.

"For me, the Sports Centre has become so much more than a swimming pool, it's my social hub. The staff are so friendly and for a small town like Wincanton the facilities on offer are fantastic."
Ron Tucker, also of Wincanton and a regular swimmer for the last five years said:
"I'm really pleased the centre has extended its hours. Like Christine I also started swimming as part of the free swimming offer to the over 60's. When the government stopped the offer I joined up and haven't looked back since.

"When I first started swimming I was a bit nervous but the staff really made me feel at ease; they are friendly and professional and in the years since I've been swimming I've got to know a lot of the staff well and always enjoy talking to them when I'm in.

"The pool is always nice and clean as are the changing rooms and the centre is an all-round excellent facility. I've made lots of friends since I've been a member."