Wincanton's focused community website, providing news and information including a full calendar
News » Politics
Local Groups Join Forces Over Somerset's Development Crisis
Wednesday 22 April 2015, 14:46
By Rhiannon Hanfman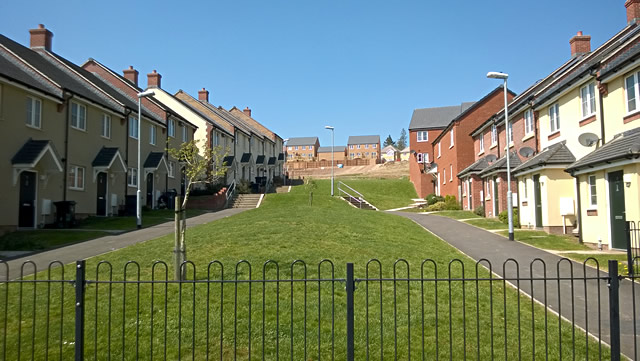 [EDITOR:] The opinions expressed in this article are those of the author.
A Wincanton meeting organised by Somerton and Frome Greens was joined by community campaigners from across the constituency on Tuesday 10th March to discuss development in the area.
Southwest MEP Molly Scott Cato, and Green election candidate Theo Simon, told the audience at King Arthur's School that the development crisis in Wincanton is part of a wider crisis affecting many communities. "Wincanton's crisis is Somerset's crisis", said Mr Simon. "It has been caused by a combination of the Coalition Government's Austerity programme, cuts in council funding, and the breakdown of local democracy".
Speaking in a personal capacity, Community campaigners from Castle Cary, Curry Rival, Somerton and Wincanton expressed a common concern— that excessive housing developments are being imposed on Somerset towns and villages without regard to local needs and conditions.
Chuck Downton of Wincanton in Crisis said, "Our concern is the speed and scale of the developments and the loss of our green spaces. Our community is already over-stretched, but nothing is being done to create the jobs, schools and services these new residents will need." He said that a recent planning appeal, which found in favour of the developer, "has left us with little faith in this government's promise to listen to the concerns of local people."
Vicki Nobles of Care4Cary explained that the people who supported her group were not "Nimbies", but that new houses had to be built in the right places and in the right numbers for the existing community. "Developments planned in Castle Cary would increase the town by 40%. In the case of the Torbay Rd development, the County Council wants to sell their land, which had previously been ear-marked for developing local jobs, and move our much-loved primary school to the new estate. There is a lack of joined-up thinking, and it's a struggle to get local concerns taken seriously."
Derek Palmer of Somerton's Pond Action Group also said that local expertise was being ignored. "The flooding and drainage arrangements for a new development on Langport Road are totally inadequate. The Mill Stream, into which surface water from the homes will flow, is already incapable of coping with existing drainage, flooding gardens and garages last winter. The District Council just dismisses our concerns."
Tisch Drake from Curry Rivel thanked Derek Palmer for the expertise that the Pond Action Group had provided to her community, which she said had helped persuade SSDC to vote against plans for 30 new homes on Stanchester Way. She added, "However, we fear the inevitable appeal from the developers, as many similar unsuitable developments have been pushed through on appeal".
For Somerton and Frome Green Party, election candidate Theo Simon thanked the different groups for sharing their experiences, which he said were united by a common thread.
"Austerity hits hardest at the local level, where Somerset County Council has seen its Central Revenue Support grant cut by 40% over the past four years. With each new development, County and District Councils and benefit financially from the governments "New Homes Bonus". I believe that this has seriously undermined their resolve to protect our communities from ruthless developers, who exploit legal loopholes and council weakness to the full.

"The Green Party wants to restore local budgets and bring democratic control over development back to our communities. The people who live there understand the situation best, but they are the people who currently have to fight hardest to be heard."

- Theo Simon
Mr Simon said he knew that the local campaigners at the meeting did not necessarily endorse his party's policies or his election campaign, but that whoever they voted for, political change would need to come at a national level to ensure that their communities were safe. He commended them for joining forces and said that unity between them would greatly increase their chances of being listened to by national and local politicians.