Wincanton's focused community website, providing news and information including a full calendar
Headlines » Sport » Wincanton Sports Centre
Jean Peter Uses the Gym
Monday 20 February 2012, 18:00
By John Baxter
Jean Peter has been coming to Wincanton Sports Centre to work out in the gym for the past eight years, and was in no doubt that doing so kept her fit and active. Also she thoroughly enjoyed it.
Three years ago, however, her visits came to an abrupt end when she had a bad car accident, injured her back and was in hospital for eight weeks. The pain she endured was considerable and she thought that would probably be the end of her gym work-out days. Still, she asked the consultant if a return might be possible. He told her that in fact, proper exercise could make a real difference to her recovery, something he found few patients take up. Jean, however, resolved that she would, so when she was discharged she came back to the Sports Centre.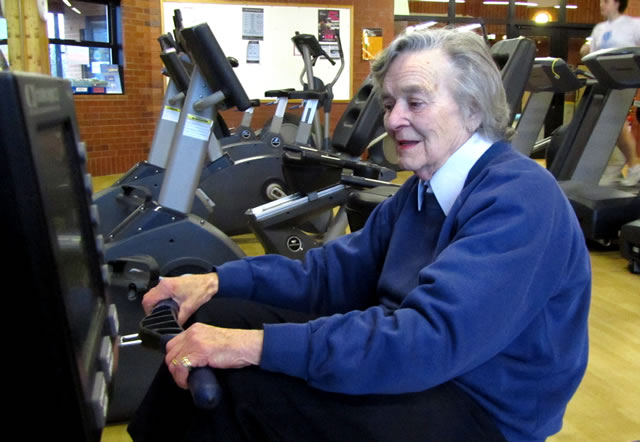 As the result of help from the skilled staff there, Jean was prescribed an exercise programme to keep her fit and mobile and gradually strengthen her back. Now, for 45 minutes twice a week, she comes to the gym. "It gives me a great sense of achievement" she says. Just what you might expect of someone of 81.
We really are so lucky to have this wonderful facility which, together with the swimming pool, sports halls, clubs and activities offers so much to every age group in the area.
To see what is currently on offer go to: www.wincantonsports.co.uk.